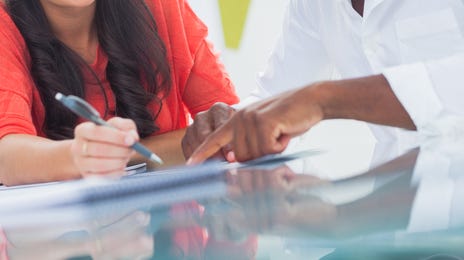 ExxonMobil Hungary & Berlitz
Berlitz has the resources, expertise, and course options to elevate your language and communication skills, strengthen your cultural competency, and give you a competitive professional edge.
For nearly 140 years, Berlitz has established itself as a global leader in quality language, communication, and cultural training. Through its global scope, the trusted Berlitz Method®, customizable instruction options, and experienced instructors, Berlitz consistently achieves the goal of producing successful and satisfied customers.
About Berlitz
In order to ensure program quality and to enable you to meet your goals effectively, Berlitz has developed the Berlitz Learning Cycle.
To start, we assess your needs and abilities in order to place you in the appropriate level. Your instruction will be adapted to suit your individual learning style. As you progress through your program, you will receive regular feedback and counseling. At the end of your course, a final level check and certificate of achievement will mark your accomplishment.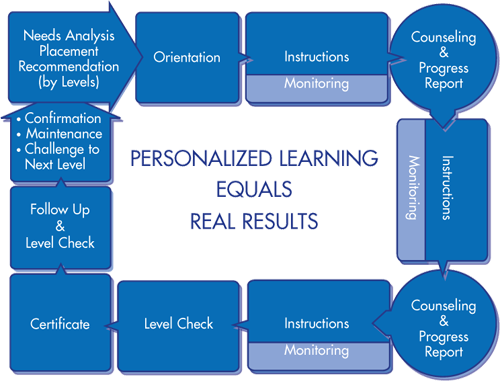 ExxonMobil & Berlitz Proficiency Level Descriptions & Correlation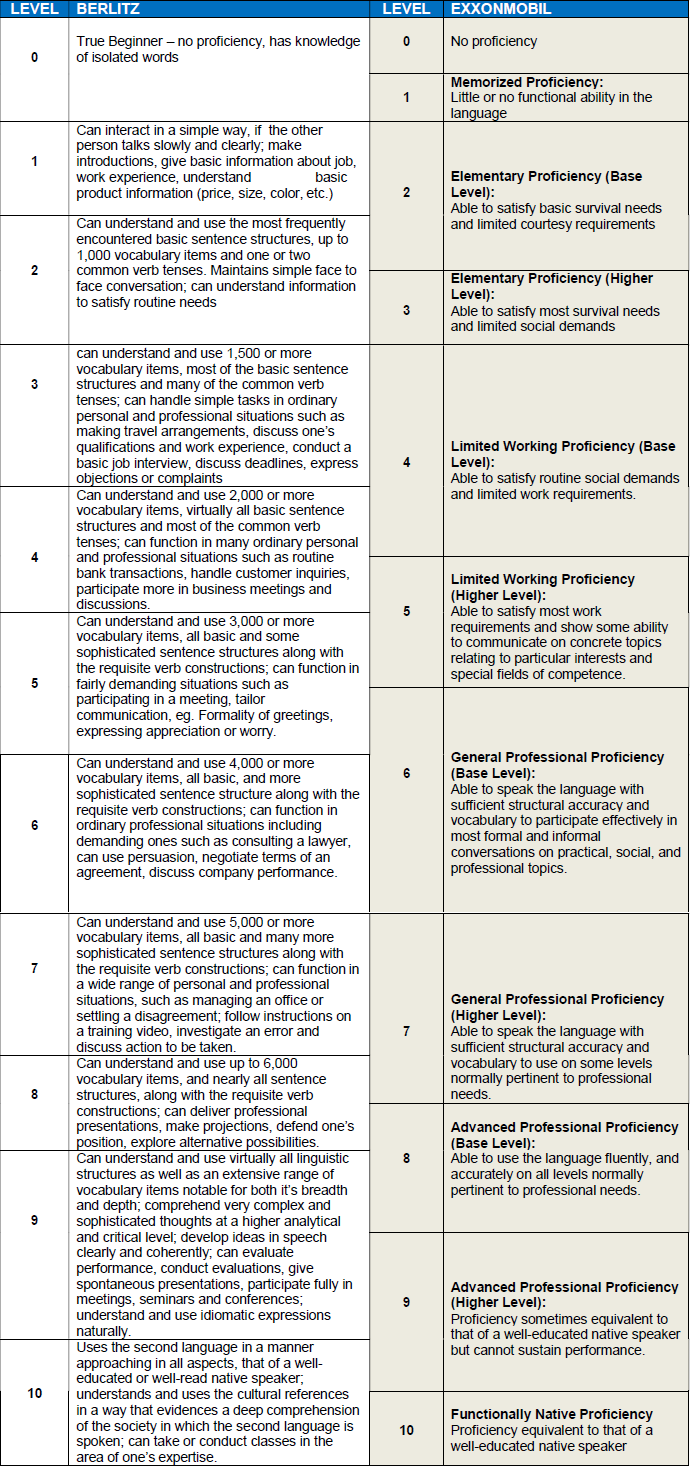 The most effective way to learn a new language is with frequent, intense, immersive blocks of instruction, rather than with instruction spread out over a long period of time.
Intense instruction enables you to reach your goals more quickly. You will forget less between lessons and spend more time on learning new material. You will not need to devote as much time to reviewing concepts you have already learned but may have forgotten over time.
Berlitz offers intense instruction not just because it is the best way to learn a new language, but because we value your time and want to ensure you achieve your goals as quickly and efficiently as possible.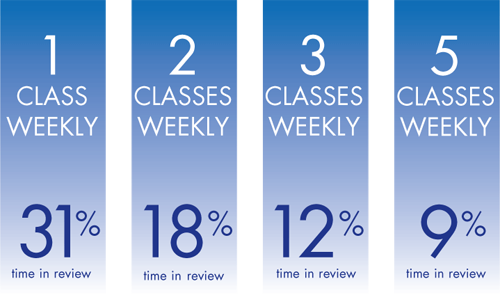 Language & communication training programs
Corporate Group Instruction is tailored to the needs of a group of co-workers or team members with similar proficiency levels. Lessons are led by a highly-trained Berlitz instructor in a traditional face-to-face classroom. Content is customized to field-specific terminology.
The available Berlitz Corporate Group Instruction options include:
Corporate Group Instruction – Face-to-Face: traditional classroom setting (@45hrs, 2-10pax)

Module outlines
The available modules include:
Private or Group – 6.75 hours (3 sessions of 2.25 hours)
Prepare for and deliver effective and powerful presentations to global audiences.
Learning objectives:
Visual communication techniques
Tone of voice
Body language
Dealing with difficult situations and disruptions
Handling Q&A sessions concisely and appropriately.
Private or Group – 2.25 hours (1 session of 2.25 hours)
Make your presentations even more compelling and successful.
Learning objectives:
Generating and maintaining audience attention
Compelling audiences to take action
Private or Group – 4.5 hours (2 sessions of 2.25 hours
Use communication skills to motivate and coach members of a team.
Learning objectives:
Assertive communication and active listening skills
Situational leadership theory
Giving appropriate feedback
Leading through persuasion
Private or Group – 6.75 hours (3 sessions of 2.25 hours)
Negotiate confidently, both within and outside your organization.
Learning objectives:
Preparing for a negotiation
Understanding and applying core negotiation theory tools.
Using appropriate structure and language
Handling conflict
Private or Group – 9 hours (4 sessions of 2.25 hours)
Use virtual communication to reach and collaborate with clients, counterparts, and colleagues around the world.
Learning objectives:
Successful teleconferencing elements
Effective participation in teleconferences
Facilitating a teleconference
E-mail writing (appropriate structure, tone, register, and word choice for both internal and external contacts)
Private or Group – 6.75 hours (3 sessions of 2.25 hours) | Prerequisite: Leadership Communication module
Connect with and relate to team members at all levels of an organization: subordinates, superiors, and peers.
Learning objectives:
Motivating and effecting change
Using diplomatic language to communicate effectively with superiors
Persuasion and influence
Active listening and emotional intelligence
Private or Group – 4.5 hours (2 sessions of 2.25 hours)
Understand the impact of culture in customer service situations.
Learning objectives:
Using the Cultural Orientations Model to understand the cultural differences encountered in a global workplace
Appropriate phrases, tone, and empathy
Managing complaints
Connecting with customers in a multicultural environment
Private or Group – 6.75 hours (3 sessions of 2.25 hours)
Prepare for the challenges that can arise when managing employees and teams, and learn the importance of communicating clearly in both positive and negative circumstances.
Learning objectives:
Leadership attributes
Motivating employees
SMART goals
Performance reviews
Managing conflict and handling difficult employees
Best practices when disciplining employees
Empathetic language
Private or Group – 4.5 hours (2 sessions of 2.25 hours)
Plan, communicate, and implement change, while managing resistance that may arise during the process.
Learning objectives:
Understanding and communicating change
Overcoming resistance to change
Implementing change in an organization
Putting change theories into practice
Private or Group – 4.5 hours (2 sessions of 2.25 hours) | Prerequisites: Leadership Communication AND Management Communication modules
Take a closer look at the importance of strong leadership and leadership communication.
Learning objectives:
Understanding and applying leadership theories
Characteristics of great leaders
Establishing a personal leadership brand
Pre-enrollment assessment is required
A proficiency level assessment must be completed before continuing registration.
Click the button below to launch the assessment. After you have completed the assessment, you may continue your registration by completing the form below. Please contact us at exxonmobil@berlitz.com with any questions.
Request a course
Fill in the form below and we'll contact you to discuss your learning options and answer any questions you may have.
To request a course by phone, please call us at the numbers below: