Progress starts with understanding

We take the experience we've gained over the last 140+ years to give you the language skills, cultural understanding and confidence to open up a world full of new opportunities and enriching experiences - and help you, your business and the world make the connections that open the world to possibilities.
Language & communication training programs
Berlitz Group Instruction — instruction for team members with the same needs and objectives.
Group Instruction is tailored to the needs of a group of your team members with similar proficiency levels. Content is customized to industry specific terminology, business presentations, meetings, and industry related communication.
Group sizes can range from 6-10 members, permitting lively interaction and plenty of individual attention. Your highly trained, native-fluent instructors will guide the group through each lesson and ensure each person is working towards their language goals.
Assessing your skills and maintaining consistent progress
We've developed a standardized scale for all the languages we teach so we can measure your existing language abilities. Ranging from 1 (beginner) to 10 (professional), our scale will measure your level of language comprehension and practical skills.
Once you complete a needs analysis survey, and chat to one of our friendly staff, you'll build a learning path that will map your journey through the proficiency levels to ensure you meet your personal goals.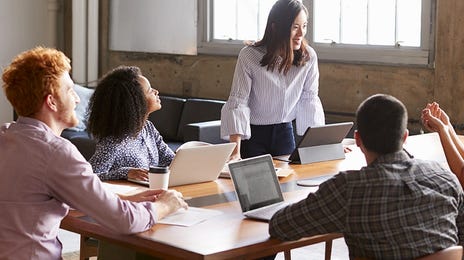 The Berlitz Method
The Berlitz Method is the most effective way to learn a language and continues to be used today.
The key elements of the method are:
Immersive. Your instructor teaches and addresses you in your target language only. Language is presented in context of real-life situations with a focus on grammar and vocabulary.
Goal orientated. Each lesson is task-based with specific learning goals. This allows you to put your new language to use in actual situations right away.
Present, practice and perform. To help you absorb your new language, every lesson follows this structure. New content is presented by your instructor, you take part in both guided practice and general practice, and are then encouraged to perform what you have learned.
Step 2
Supervisor approves request via email.
Step 3
Berlitz Delivery Team will contact you if any additional information is needed.
Step 4
You will receive confirmation email and instructions once Supervisor approval is received and courses are ready to begin.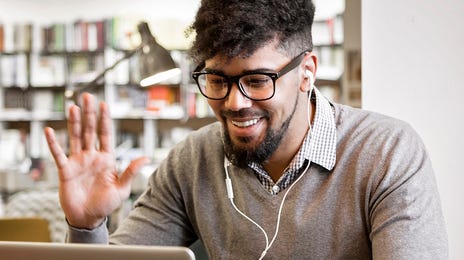 Before you register, please complete the Can Do Self Assessment
Prior to registration, all new and returning learners must complete a proficiency level assessment. Click the button below to begin.

The assessment is not required if you are a complete beginner in the target language you select.
Request a course
Fill in the form below and we'll contact you to discuss your learning options and answer any questions you may have.
About Berlitz
Berlitz is dedicated to improving people's lives globally through language and culture. As a global leader in quality language, communication, and cultural training, we are committed to your success. Through our global network, the trusted Berlitz Method®, customizable instruction options, and experienced instructors, Berlitz consistently achieves our goal of producing successful and confident customers.
What we believe in
The most effective way of learning is learning from people and with people.
Intercultural competencies are key to successful communication in a global environment.
Immediate results and constant progress drive motivation and self-confidence.
Only by acquiring relevant skills can people become self-confident and unleash their full potential in life.
Our passion and commitment to client goal achievement engenders trust.
The Berlitz Learning Cycle ensures you are always on track to achieving your specific language goals. With dedicated instructors and academic specialists, you have an entire team committed to your success and will guide you through your language journey.
How does it work?
To start, we assess your needs, goals, and language proficiency to identify a great starting level. Your course is adapted to suit your individual learning style and objectives. As you progress through your program, you will receive regular feedback and guidance to keep you motivated and moving forward! At the end of your course, a final level check and certificate of achievement will mark your accomplishment.
All Berlitz language programs have standardized proficiency levels, which allow you to measure and track your progress. We determine your current proficiency level before you begin your course, and as you progress, we assess your skills before advancing to the next level.
Functional Ability
Level 1:
Knowledge of language is sufficient to communicate in a very limited way, with the simplest oral and listening tasks and situations.

Level 2:
At the functional level, you have a basic command of the language needed in a limited range of simple, routine, and familiar tasks and situations.
Intermediate Ability
Level 3:
You can handle most uncomplicated communicative tasks and routine social and work situations. You can follow the general meaning of a conversation about familiar subjects.

Level 4:
At the intermediate level, you are able to refashion and combine learned material to meet your immediate communication and learning needs. You can comprehend information on familiar topics in contextualized settings and produce sustained conversation with others on an expanding variety of general topics.
Upper Intermediate Ability
Level 5:
You can, to an extent, initiate, sustain and conclude most routine communicative tasks for personal and work needs.

Level 6:
At the upper intermediate level, you have assimilated the essentials of the language. You can communicate competently and comfortably in many professional and personal contexts and can find different ways of formulating what you want to express.
Advanced Ability
Level 7:
You begin to create with the language in more complex, cognitively demanding situations, and in conversations, and can deal comfortably with most subjects over the telephone.

Level 8:
At the advanced level, you communicate effectively and appropriately even in demanding oral tasks and situations, like conducting a meeting. You can participate easily in social and professional conversations and can deal comfortably with most subjects over the telephone.
Professional Ability
Level 9:
You communicate effectively with various audiences on a wide range of familiar and new topics to meet most personal, academic, or professional demands—including many which presume experience in public speaking and critical listening.

Level 10:
At the professional level, you have full command of the language. You understand and can use virtually all linguistic structures as well as a range of vocabulary items as broad and deep as that of most educated native speakers. Communication is fluent, appropriate, and well organized—you develop ideas in speech clearly and coherently.
The most effective way to learn a new language is with frequent, intensive, immersive blocks of instruction, rather than instruction spread out over a long period of time.
Intensive program schedules enable you to reach your goals quicker! You spend less time reviewing concepts you covered in your last lesson, and more time building your language skills.
We value your time and want to ensure you achieve your goals as quickly and efficiently as possible.