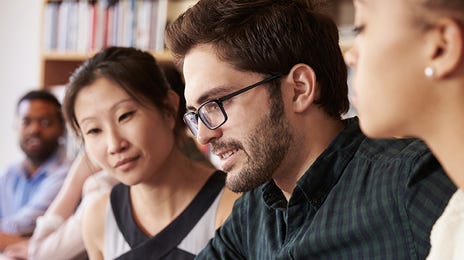 VIP Small Group lessons
Our VIP Small Group courses are taught with experienced native instructors here in Australia. They are personal, convenient, cost-effective and keep you motivated since you will be able to practise speaking throughout the entire lesson. 
Each open group is only 3-6 people to ensure you can learn quickly
Available in-person at Berlitz or Online via Zoom
Flexibility to learn a language from anywhere
Courses available daytime, evening or weekend
Individual online dashboard for course material
Regular course: 2hrs X 10 weeks (20hrs)
Intensive course: 2 X 2hrs each week X 5 weeks (20hrs)
Tuition: $450 +gst
VIP Online small group courses are available for GERMAN, FRENCH, SPANISH, CHINESE & JAPANESE.
Some of our satisfied customers
I wanted to learn to speak Polish so I could live and work there. After 2 months of private lessons, I could have basic conversations in Polish. After another 6 months, I have passed the B1.3 proficiency level. Thanks to Jannick, who is an amazing teacher.

Wade, Sydney, Polish Language course
Contact us now
One of our staff will contact you very soon.