With Berlitz Flex, you learn independently, flexibly, from any location and in a structured way through self-study. You decide individually when and from which location you want to learn online. The Live Coaching Sessions offer an additional motivational kick. Here you meet online, in real time with a trainer.
Available for English, German, Spanish and French levels 1 to 4 (CEFR A1-A2.3), and for Business English and Business German levels 5 to 8 (CEFR B1.1-B2.1).
Selected features
For methodical and structured learning, the individual self-study lessons, live coaching sessions, review lessons, checkpoints, and culture lessons can be worked through in the specified sequence.
The 1:1 live coaching sessions with a Berlitz trainer last 25 minutes each. In these sessions, you receive direct feedback and assistance for optimal learning progress.
One of the true highlights of Berlitz Flex is the automatic voice recognition. Practice your active speaking and pronunciation whenever you like – using full sentences, not just individual vocabulary words.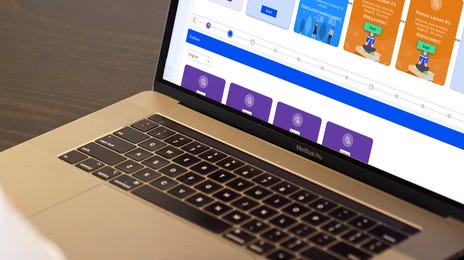 Your benefits:
Same content as in classroom instruction
20 coaching sessions: practice privately with a coach
40 self study lessons: online exercises for self-study
Coaching still bookable after completing the level(s)
Coupon code
35 % discount (6- or 12-month licence and one time payment): FLEX35