Our summer camp in Krvavec is for all children between seven and sixteen with or without previous knowledge of the language. All our activities are in the foreign language, so your kid will have fun and learn in a natural way, having fun, doing sports, and attending other social events.
About our Krvavec language camp
Krvavec is located in the Kamnik-Savinja Alps at an altitude of 1600 meters above sea level. In the summertime, Krvavec is a great location with fresh mountain air, beautiful nature, and friendly people.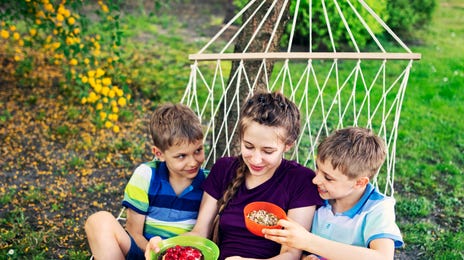 We have scheduled:
A summer park
A trampoline
Archery activities
A cinema under the stars
Why choose Berlitz language camp
We focus on learning the language with real-life conversation. Besides learning and meeting new friends your kids will enjoy ball games, hiking, team building games, and more... One activity is scheduled every day.
Berlitz instructors
​​Our instructors are teaching in their native language only. They know how to motivate children and make learning fun, while being professional and responsible.
A day at our Krvavec language camp:
7:30: Waking up - morning routine, breakfast, and introduction of daily activities
9:00-10:30: Games and fun - different activities under the supervision of Berlitz instructors and other qualified experts
12:30-13:30: Lunch - healthy and freshly made food
14:00-15:30: Education in a small group with native-fluent teachers
From 16:00: Sports and fun - swimming, ball games, team building
19:00: Dinner
From 20:00: Evening activities - many fun games, singing, walks
Find out more
Fill in the form below and we'll contact you to discuss your learning options and answer any questions you may have.