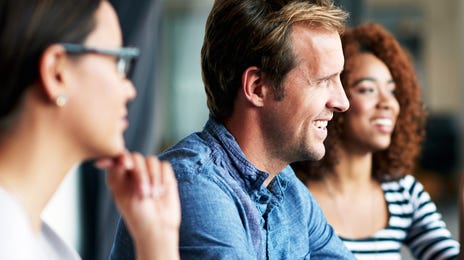 Why learn a language in Buenos Aires with Berlitz?
In today's connected world, mastering more than one language can be highly beneficial for the modern professional. Many organizations around the world work with multidisciplinary groups in several countries. Being prepared to face this challenge provides you with a competitive advantage.
For this reason, Berlitz provides two language institutes in Buenos Aires so that you can choose the closest one which allows you to achieve the goal of learning the language or languages ​​that are essential to advance in your career and studies.
We know that learning a new language is a challenge but we are prepared to face it and assist you along the way. We have a method validated for more than 140 years, as well as flexible study modalities and teachers prepared to help you succeed quickly.
Benefits of learning with Berlitz
We apply a proven teaching technique
The 100% Conversational Berlitz method allows you to learn the language in a practical way, gaining confidence and the ability to speak from the moment you start studying.
Flexible courses
We adapt to you. We offer you a variety of personalized learning options to suit your situation and needs. We have group and private courses for all levels and ages.
Quick and effective results
You will start to speak the new language fluently in less time. In addition, we include cultural understanding that provides the closest experience you can have to living and working in a new country.
Committed teachers
Our highly motivated professional team shares our passion for helping you achieve your goals of learning a new language.
You choose the language center where you'll study
By studying a classroom course or participating in one of our self-study programs, you can choose to attend the language center in the federal capital that is most convenient for you.
Frequently Asked Questions
Berlitz originated in the United States after our founder, Maximilian Berlitz, emigrated from Germany in 1870 and took the opportunity to teach languages ​​thanks to his excellent language skills.
Among the languages ​​that you can learn in our language centers in Lima are: English, French, Italian, German, Portuguese and Spanish.
We use the Berlitz Method, which consists of total immersion in the language with a proven, task-based technique that gives you the confidence and skills to speak the new language immediately.
We offer you a variety of language programs, whether group or private and in different intensities. In addition, we have specific courses for companies. Get in touch with our advisors to find the one that best suits your needs.
Yes. We have both courses for adults and professionals that allow them to achieve specific goals in their careers and work, as well as courses for children and youth.
Find out more
Fill in the form below and we'll contact you to discuss your learning options and answer any questions you may have.