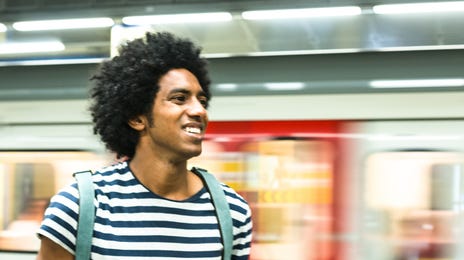 The fastest, most effective way to learn English.
Learn English fast and start holding in-language conversations from your first lesson with Berlitz.
With over 140 years' of experience teaching languages, we are one of the largest and most successful language schools in the world.
Our expert instructors will not only teach you the language but will help you understand the cultural nuances and how to naturally converse in-language.
You can also select from a wide range of flexible English classes, both online and in-person, to create a schedule that suits your life and your goals.
Benefits of learning English with Berlitz
Choose how you study: alone, in pairs, in a group, online or in-person at your local language centre. The choice is yours!
Mix and match online and in-person classes to suit your needs and goals.
Classes are available for all ages: children, teens and adults.
You will be speaking in English from your very first class using our proven effective Berlitz Method.
Online English classes
Don't have time to commute to your local language centre? Learning English online offers you the same Berlitz learning experience, with the convenience of learning from home, work or wherever you happen to be.
With Berlitz you can create your own class schedule, so you can learn at a pace and an intensity that suits your lifestyle and your goals.
If you enjoy the social aspect of group learning, you can choose our budget-friendly online group English classes, and practice your English conversation skills with your new friends in class. However, if you have some specific goals and want to speed up your results, then private online English classes may be a better choice for you, allowing you to customise your learning. If you're more of an independent learner, you can also choose one of our self-paced courses.
In-person English classes
Start speaking English with the support of your native-fluent Berlitz instructor from your very first in-person English class. Located at your local language centre, our in-person English classes will have you conversing fluently in no time at all, thanks to our proven Berlitz Method.
Find out if there is a Berlitz Language Center location near you to explore your learning options.
Why learn English?
English is the most widely spoken language throughout the world, so being able to speak it fluently will vastly open your educational, employment and social options. Learning English will expand your career opportunities, with many companies actively seeking candidates fluent in the language. If you're wanting to travel, it's a great language to know as nearly one in every five people worldwide know or understand it. If you want to study overseas in America, Europe, Australia or Canada, knowing English is an absolute must to get the most out of your learning experience.
What our learners say
"... From the administration to the two teachers I worked with, I found great professionalism and quality. The two courses I had improved my knowledge from basic to a very good level..."

Gabriel