Culture training programs
With ongoing, rapid globalization, organizations now have the ability to attract talent from across the world. But with these new opportunities come new challenges. The more diverse your workplace is, the greater the need for contextual and cultural understanding between colleagues, partners and clients. At Berlitz, our cross-cultural training solutions provide powerful, customized tools to maximize performance across cultures and reduce risk for your business.
With the cross-cultural training solutions offered by Berlitz, you will learn the best way to leverage cultural differences and similarities to get the most out of every employee and to make your business attractive to global talent and clients.
Expanding beyond cultural borders opens up a wealth of opportunities for businesses in every industry – from a more effective workforce to more innovative environments. Here at Berlitz, we are dedicated to providing the necessary cultural training to make these opportunities a reality for all types of organizations​
Our inclusive leadership program focuses on the following areas:
Diversity and inclusion: creating an inclusive workplace and an environment that values and leverages differences
High performing teams
Global awareness
Effective communications for virtual and global teams
Eliminating unconscious bias and micro inequities
All Berlitz cultural training programs are based on an exclusive model
Cultural orientations model C.O.M. which in turn is linked to an individual Cultural Orientations Indicator profile C.O.I. and the Cultural Navigator learning platform C.N.
The combination of a solid model, an individual profile and a learning platform provide the business case for trainings aimed at increasing individual and collective team performance. Increased performance is achieved via the acquisition of enhanced intercultural agility common to all styles of intercultural trainings whatever the specific objectives assigned to the training.
These three elements which underpin all our trainings help participants to:
Better understand how cultural preferences impact the workplace
Acquire keys for decoding and deciphering unfamiliar behaviour and communication patterns
Understand and leverage the underlying motors and drivers of such behaviour
Gauge, measure, bridge and finally reduce cultural expectation gaps with other team members or international colleagues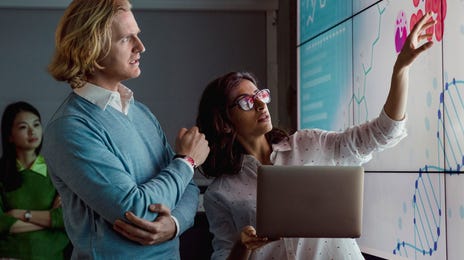 The six levels of culture
All Berlitz cultural training programs address the six levels of culture that impact people's work-style preferences:
National/Societal
Social Identity Group.
Organizational
Functional
Team
Individual (inter and intra-personal)
Cultural Consulting & Training Services with Berlitz

If you are interested in cultural solutions for your organization, contact Berlitz. Our cultural training programs are custom designed and provide solutions for your specific business needs, including:
Online instruction
In-person training
Cultural consulting
Cultural assessments
Let us help your organization leverage culture for success via our Managerial Business programs.
The other two pillars of our global leadership training portfolio may also interest you.
Find out more
Fill in the form below and we'll contact you to discuss your learning options and answer any questions you may have.