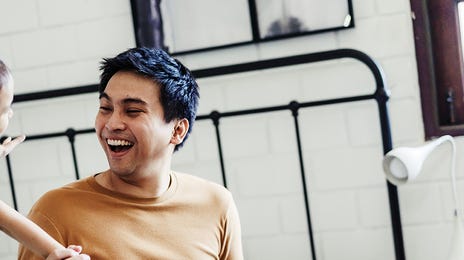 Why learn Japanese online with Berlitz?
Learning Japanese can help you immerse yourself in the Japanese language and culture like never before. Learning for personal development or as a hobby? You'll be able to read your favorite manga in Japanese, watch anime without subtitles and even make your dream of traveling to Japan a reality. Once you have a grasp on the Japanese language, you'll be able to communicate with native-fluent speakers with ease and even be able to get a driver's license - because the law requires understanding the language.
Or maybe your goal is professional? Whether it's for international business, to hold meetings, or even move to Japan for work, knowing the Japanese language can give you the skills and confidence to open up your world with communication and cultural understanding. And for your convenience, you can learn Japanese online, with complete control of how you learn.
What you will learn in online Japanese classes
You'll learn to speak Japanese and understand how to communicate with the people of Japan, a country that is very rich in culture, cuisine, and offers an abundance of opportunities. You'll also gain cultural knowledge and understand the structure of Japanese society.
Level 1 and 2 - Basic
Here, you will learn the essentials for communication
The ability to express yourself correctly begins
Level 3 and 4 - Intermediate
The first moments of conversation and advancement appear
The primary focus is easy, light topics to talk about
Levels 5 and 6 - Upper-intermediate
At this level, you'll have started to develop your confidence when speaking
Themes become more dense and complex
Level 7 and 8 - Advanced
You can finally have a quality conversation, understanding the most diverse topics and having a professional focus
Level 9 and 10 - Professional
Fluency and business language
How soon can you finish your online Japanese course

This will depend on the course type, where you will learn Japanese online. Depending on your choice, the course can take months or years to complete in its entirety.

See all our online Japanese class options
Advantages of Japanese tutoring online at Berlitz
Dynamic and fun teaching
Studying at Berlitz is much more than just going to a class, it's a whole different method of fun, effective learning. Just start, and you'll see what we mean!
Study even while traveling
Whether you're traveling to another country or another state, classes can be done easily. You can even ask questions if you are traveling internationally!
Take classes with friends
Prefer to study in pairs or in groups? Take the opportunity to call your friends and study with them in a fun group setting.
Different stimuli for learning
All your learning will take place in a diverse, enjoyable way. No more just staring at books. At Berlitz, you'll talk, understand and learn much more than a language... You'll learn a whole new culture.
Study according to your routine
If you have a daily routine, you choose your class schedule to fit around it. Here, you can make the best use of your time, in the best possible way.
Frequently asked questions (FAQs)
Yes, the structure of the Japanese language is very different from English, which can make it more exciting and rewarding once you begin understanding it.
You can study in different ways, according to the course type you choose. For those who want to take face-to-face classes, just look for the center closest to your city.
Yes! And beyond that, you'll learn a whole new vocabulary and an exclusive business culture, from one of the most intricate countries in the world.
Berlitz teaching follows a methodology very different from everything you will have ever experienced. In it, you will learn with us in reverse. First, you learn to converse in the new language, and then learn the other skills. Read more about the Berlitz Method here.
Find out more
Fill in the form below and we'll contact you to discuss your learning options and answer any questions you may have.