A fun, proven method for learning a new language.
Our Berlitz language courses for children and teenagers not only foster your child's development but also open the door to global opportunities for them.
Research has shown that childhood is the best time to learn a language. With fewer inhibitions than adults, children can absorb the nuances of a foreign language and they're often able to speak without an accent.
Our interactive Berlitz courses are delivered by Berlitz instructors who can keep young learners engaged, online or face to face.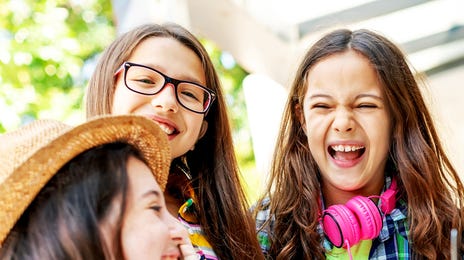 We have a program according to your child's age
1.  Discover (4 to 7 years old): They will discover the world around them by learning a new language.
2. Explore (8 to 11 years old): They will explore and get to know the new culture and their lifestyles.
3. Achieve (12 to 15 years old): They will reach a new level of language comprehension and gain useful real-world skills.
4. Lead (16+): They will learn what leadership is and get to know the world through cultural understanding
Berlitz language courses for kids and teens are
Effective and entertaining: The Berlitz Method focuses on real-life situations and activities that make learning a language effective, enjoyable and meaningful to students.
Measurable and rewarding: Our unique learning cycle allows students, parents and instructors to monitor progress, measure improvements, and celebrate achievements.
Flexible and personalized: You can choose between face-to-face or online classes and holiday programs that adapt to the needs of each child.
Enriching and challenging: Our unique approach helps children and youth develop skills that prepare them for life; such as cultural understanding, problem solving and leadership.



Benefits:
Make quick progress in one-on-one lessons or small groups
Specially trained native-fluent speaker language instructors who have experience working with children
Sound educational concept motivates participants and makes learning easy
Age-appropriate topics and modern course materials
Fosters intellectual development and boosts future career prospects
Berlitz Kids & Teens & Associates
Some of the contents and materials of our classes have been developed by:

Find out more
Contact us today with your questions. We can work together to find the course that's right for you – with no obligation on your part. Fill in the form and your Berlitz team will contact you shortly.