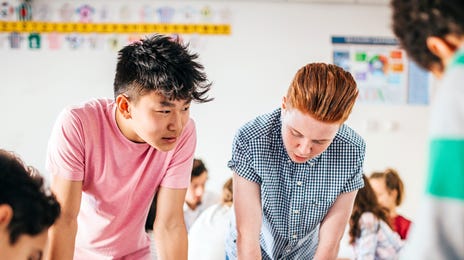 Open the door to opportunity
Learning a new language is the key to a world of opportunities for kids and teens. Not only will your child be exposed to a new language, but language classes for kids with Berlitz include cultural elements that enable them to more easily understand and accept other cultures and ideas, as well as create curiosity for travel and new experiences.
Berlitz offers summer language camps for kids in Dutch. We also offer several other language classes for kids via our online, instructor-led platform. Click here to learn more about our online language classes for kids.
After completing our summer program, your child will have the skills to communicate in their new language as well as a broader cultural understanding. Our teams are ready to help open doors of opportunity for your child.
What makes the Berlitz summer language camps different?
Our unique emphasis on conversation engages children and gets them talking from the very beginning, emphasizing authentic pronunciation and consistent participation. This encourages authentic verbal interaction throughout each session, both between students and the instructor, as well as with one another. Each lesson is interactive and full immersion, meaning that the teacher and students speak only in the target language.
Our class sizes are small groups with up to 4 students, grouped by age and skill level so that classes can be most effective. This format helps students more easily engage with each other and the instructor and rapidly see results.
Our summer language camps also feature cultural experiences that engage students outside of the classroom.
We also believe in celebrating achievements at Berlitz and all our summer language camps include a Celebration of Skills and Certificate at the end of the program.
Current offer
We have only 2 spots left for the following course:
ages 9-12 years old
Beginners-conversation camp
Monday to Friday from 09:00-12:00
8/8-19/8
€649 all in
Taking place at our Amsterdam center at Weerdestein 205a.
Interested? Register here!
Find out more
Contact us today with your questions. We can work together to find the course that's right for you – with no obligation on your part. Your Berlitz team will contact you shortly.