Language tests and preparation courses at Berlitz
Would you like to test your current language skills or prepare for a language test? No problem. We offer exam preparation classes for several internationally recognized language certificates. Furthermore, our Berlitz language centers across UAE are also official test centers where you can take the desired language exam directly.
The free Berlitz online language test gives you an idea of your current proficiency level and helps you book the right preparation course or exam. The placement test is available in German, English, French, Spanish, and Dutch.
Start your exam preparation for TOEIC, TOEFL, telc, IELTS, and other tests! To help prepare you for your exam, join our private and group courses.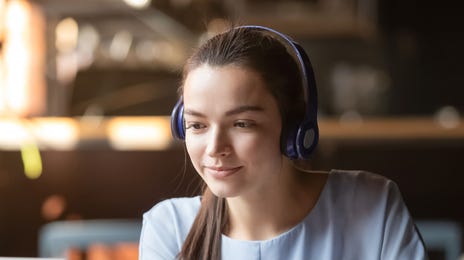 Prepare for IELTS with Berlitz UAE
Berlitz UAE offers IELTS exam preparation to test your English language skills. IELTS focuses on the areas of listening, writing, speaking, and reading. The test is recognized internationally by more than 11,000 organizations in over 120 countries. Universities in countries like Great Britain, Ireland, Australia, Canada, and New Zealand also require IELTS. The test's grading system ranges from 1 ("non-user") to 9 ("expert-user") and lasts for three hours.
Benefits of taking the IELTS exam preparation course with us:
You will receive targeted lessons and instructions for the test
Test centers located nearby
High success rate as our Berlitz-certified instructors will prepare you for the IELTS exam
Regular exam dates
Widely accepted for college and work permit applications
International language examinations with Berlitz UAE
The TOEIC test is the global standard for professional English. It is accepted as evidence of language competence by more than 14,000 international companies in 160 countries. With more than 7 million candidates annually, TOEIC tests are the world's most frequently performed language tests for professional English.
TOEIC is suitable for all language levels and assesses either two or four language competencies depending on the test: TOEIC Listening and Reading, TOEIC Speaking and Writing, or TOEIC 4Skills, which combines all four areas of competence
TOEFL tests are used for school and academic purposes and are often demanded by universities and academic institutions as an admission requirement. A distinction is made between the internationally widely used TOEFL iBT ("Internet Based Test") and the TOEFL ITP ("Institutional Testing Program"). Which of the two tests is required depends on the country and institution and should be clarified in advance. In addition, the TOEFL Primary and TOEFL Junior are available for school-age learners. Our native-fluent instructors lead the TOEFL exam preparation course, making sure that you prepare for the test with the appropriate study materials.
The benefits of GOETHE ZERTIFIKAT preparation with Berlitz United Arab Emirates:
Broadly recognized certification which can be used at many institutions worldwide as proof of language proficiency

Most GOETHE tests are suitable for study and visa applications
We provide you with assistance in selecting the right test and level for your needs
We offer highly effective individual preparation with suitable learning media and materials
High scheduling flexibility
Available for all relevant levels - A1, A2, B1, B2, etc
The telc language certificates are required for training, study and employment, and are internationally recognized by many organizations. The tests assess skills in listening, reading, speaking and writing and are available for a total of 10 languages.
Those wishing to confirm their French language skills can select this examination. Here, academic and professional knowledge of French is tested. The TFI assesses listening and reading comprehension and is used by international companies and universities.
The DELF and DALF are French language diplomas backed by the French Ministry of Education to prove French proficiency in non-native-speakers. The TFI examination is good for anyone wishing to test their French proficiency. The TFI examines your academic and workplace French skills. Used by international companies and universities, it evaluates listening and reading comprehension.
In addition to the official language examinations, Berlitz UAE also offers language tests with a certificate. The tests are administered only online and are ideal whenever a valid proof of language skills is needed quickly, flexible, and cost-effective. They are ideal, for instance, for companies that wish to have applicants tested as part of a recruiting process. An additional advantage is the significantly broader selection of test languages. These variants are available:
Berlitz Test of Listening and Reading Skills (BTLR)
Simulated Oral Proficiency Interview (SOPI)
Writing Proficiency Exam (WPE)
We also offer language tests for CILS, DAF, TEF, and Dutch naturalization tests. Contact us for more details.
Find out more
Fill in the form below and we'll contact you to discuss your learning options and answer any questions you may have.