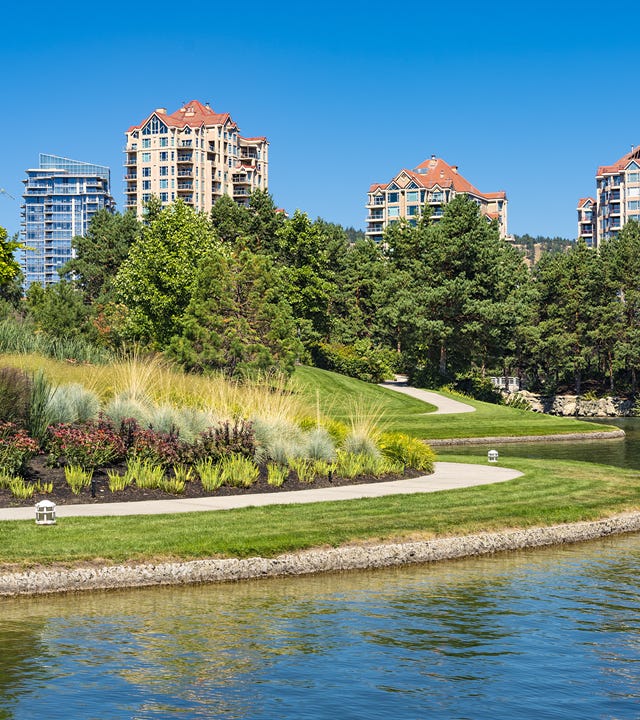 Language school in Kelowna
Address:
106-460 Doyle Ave,,
Kelowna, BC British Columbia V1Y 0C2
Classroom Hours:
Monday - Friday

8:00 - 21:00

Saturday

8:00 - 21:00
Location of our language school in Kelowna
Berlitz Kelowna is based inside the one-of-a-kind Okanagan Centre for Innovation.
We are conveniently located in Kelowna's vibrant downtown area, near popular local eateries.

About the Kelowna language school
You can choose one of our in-person or online classes and focus on your goals. Throughout the year, we offer you intensive, extensive business and language lessons during which you will have real-life conversations.
We have fully-equipped classrooms, air conditioning, free coffee, and water.
Incredible location, which is immediately connected to the wider area via a pair of convenient bus stops. What's more, its central position places it next to some of the city's most enticing venues, such as Kelowna Yacht Club, the tranquil Kasugai Gardens and Stuart Park.
Besides our language courses in Kelowna, our students have the possibility to join the online community - online hangouts to practice the target language.
Discover all the languages you can learn at Berlitz Kelowna
What our learners say
For two months I followed individual lessons at Berlitz to improve my English for my new (and challenging) tasks in Vancouver. I enjoyed every single lesson very much because of the extensive knowledge, kindness, and enthusiasm of my teachers. My English improved clearly and I feel much more comfortable when I am speaking, also informal situations. I highly recommend Berlitz with great teachers, a super kind and helpful team, and a program that really works. Thank you very much, Berlitz Vancouver!

Kathrin Höner-Snoeken
Find out more
Fill in the form below and we'll contact you to discuss your learning options and answer any questions you may have.