Our Berlitz language courses for kids and teens not only foster your child's development, but also open the door to global opportunities for them.
Research has shown that children who learn a foreign language at an early age have fewer inhibitions surrounding the new language and can therefore absorb its nuances more easily – in some cases they later speak it without an accent.

Berlitz offers weekly group courses, in-school courses and summer camps. So we're sure to have the right program for your child!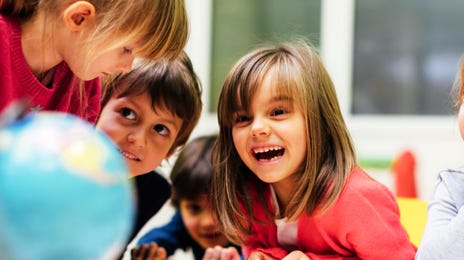 We have the best program according to your child's age
Discover (4 to 7 years old): They will discover the world around them by learning a new language.
Explore (8 to 11 years old): They will explore and get to know the new culture and their lifestyles.
Achieve (12 to 15 years old): They will reach a new level of language comprehension and gain useful real-world skills.
Lead (16+): They will learn what leadership is and get to know the world through cultural understanding.
Benefits of language classes for kids and teens at a glance:
Make quick progress in one-to-one lessons or small groups with specially trained native-speaker language instructors
Sound educational concept motivates participants and makes language learning easy
Age-appropriate topics and modern course materials
Fosters intellectual development and boosts future career prospects
Ideal preparation for language lessons at school; also ideal as supplementary support
Extra fun and motivation at our language camps
Find out more
Fill in the form below and we'll contact you to discuss your learning options and answer any questions you may have.