Our group language classes for kids and teens let your child have fun and stay motivated while taking the plunge into foreign-language learning with students from other countries. In our international groups, the language of study becomes the language of instruction. There is no option of translation.
These courses are provided via videoconferencing platforms such as Teams, Zoom or Google Meet. To participate, all you need is a device with an internet connection and a desire to learn.
Our groups have six students maximum. Our experience has shown us that training in small groups is the key to individual success.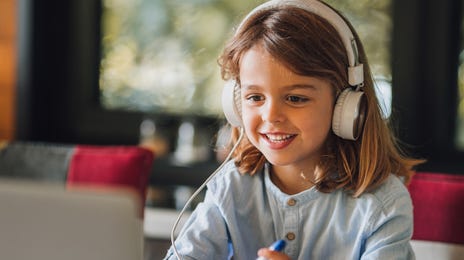 Groups according to age and level
Social learning: Training in international groups not only fosters communication with the other members of the group but also, by being international in character, acquires the added value of cultural exchange.
Microlearning: Our international courses for Kids and Teens can accommodate a maximum of six students, so the teacher can devote the necessary attention to each of the participants.
Gamification: Our innovative method allows us to motivate and keep students engaged thanks to the dynamism of the activities, the inclusion of games that encourage learning, audiovisual resources... They will always look forward to their next class.
The benefits of our kids and teens courses:
Small groups (three to six students) with students from other countries.

Regular language instruction after school.
Grouping by proficiency and age.
Age-appropriate and varied teaching materials.
Specially trained native-speaking teachers.
Small groups (four to six students).
Find out more
Fill in the form below and we'll contact you to discuss your learning options and answer any questions you may have.