Learn English online with Berlitz UAE
We have online English classes that fit your learning style. Our courses are flexible, so you can choose a schedule that suits your needs and - by not having to travel - you can dedicate more time to work and family. Whether you prefer classes with an online instructor or to study on your own through a self-study platform, we have the program for you.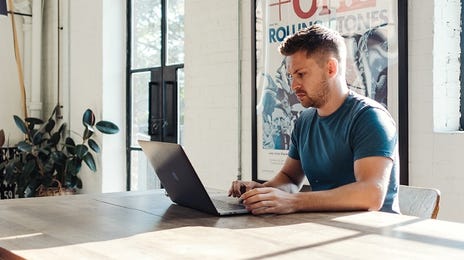 Learn English with online classes
This modality is designed for students who seek rapid progress and greater personalization. You can decide with your teacher the topics that are most important to you. This makes it possible to move towards your goals more efficiently as your teacher will be there to guide you.
Group classes are ideal for those who enjoy interacting with their classmates through online English learning. Conversations help to consolidate what you have learned. With our total immersion methodology, you will use English in real-life contexts and social situations.
The online self-study option is perfect for students who prefer to advance at their own pace. This option allows access to various learning materials such as emails, videos, applications, podcasts, chats, and much more so that you can advance with full autonomy towards your personal goals.
Discover our online English courses
At Berlitz United Arab Emirates, we have different online programs with the same quality and monitoring of learning as our face-to-face courses. Choose the modality that best suits your needs:
How to learn English online with our classes
Step 1: Read about all the different online English courses we offer.
Step 2: Contact us to help you determine your level of fluency and the program that best suits your needs and goals.
Step 3: Sign up for one of our online programs.
Step 4: Study and practice.
Step 5: Receive feedback and work on your progress.
Benefits of learning with Berlitz
All our online English language courses in the UAE are:
Thanks to the Berlitz Method, an immersive, goal-oriented language learning technique that focuses on communication as it happens in real life.
Berlitz offers in-person and online training for maximum flexibility with programs designed to meet personal goals.
From day one, you'll be immersed in the language and culture of the chosen language, thus achieving faster results with a significant return on investment.
Berlitz integrates cultural understanding into language learning to help people use their language skills in common social and business situations.
What our learners say
"I completed 3 levels online with Berlitz JLT, and I loved the teacher and the method. It was in a small group of 4 students, the teacher was very patient, and the classes were fun. My English improved a lot, and I am more confident in using the language."

Aya Mohamed
Find out more
Fill in the form below and we'll contact you to discuss your learning options and answer any questions you may have.
Frequently asked questions
Private classes are more customized to suit the learning goals of the students as well as their schedules.
A placement test and needs analysis are conducted to set goals and customize programs for students after-which the schedule and starting date are confirmed.