Today's workforce is more culturally diverse than ever, and many organizations are realizing the benefits of implementing business language services for their employees. Whether your company is looking to expand globally, reach new markets, or simply improve communication between dispersed global teams, we can help by developing training to suit your budget and objectives.
Improve internal communications
Communication across cultures can improve the cohesiveness of an organization. Our language and business training services offer coaching in areas such as leadership and management, with practical tools and techniques necessary to live and work in a multicultural environment.
Our classes are flexible for employees—they can learn during set hours without it interfering with their existing workload.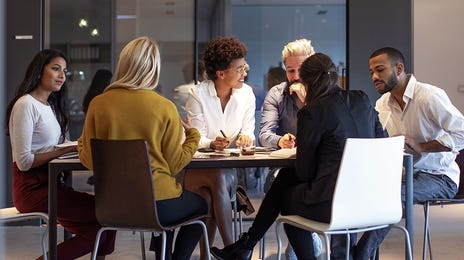 We offer:
Corporate language training for all levels, available face-to-face or online with an instructor
Cultural consulting and coaching to identify behavioral styles that will improve an executive's ability to effectively lead, manage and communicate
Business communication skills to better prepare students to be more effective global leaders
Language testing and assessment in all languages, delivered in any time zone
Wide range of programs
From open-enrollment group courses that use standard Berlitz teaching materials to individual instruction that incorporates industry- and company-specific content, Berlitz offers the right training program for every target group.
In-house seminars
Are you planning staff training on your business premises? Our Berlitz team supports you throughout all of the stages – from planning to follow-up – providing personal, integrated, and professional assistance.
Berlitz training evaluation system
With the Berlitz training evaluation system, your continuing education courses can be managed down to the smallest detail. We monitor the commercial benefits of your training program – even providing online reports and thus giving you access to key figures at all times.
Managed training services
Whether your company needs multiple courses in Finland or training programs in different locations around the world, we can manage all aspects of coordinating and administering your continuing education setup. If you prefer, we would be happy to work with your existing learning management system (LMS) and in the Berlitz Portal.
Testing & assessment for recruiting
In advance of language instruction, we conduct a quick and reliable placement test for your employees to determine their level of proficiency – we'll even test large groups on your business premises.
The placement test is based on the Berlitz language levels, which can be easily categorized in line with the levels of the Common European Framework of Reference for Languages (CEFR).
Find out more
Contact us today with your questions. We can work together to find the course that's right for you – with no obligation on your part. Fill in the form and your Berlitz team will contact you shortly.