Get a high-quality education using proven training techniques that will have you speaking Arabic fluently— sooner than you ever thought possible.
Berlitz is one of the largest language schools in the world, and our Arabic lessons are built around immersion and practical application so that you start speaking Arabic from your very first session.
You also control when, where, and how you learn so that each course is tailored to fit around your life, your interests, and your goals.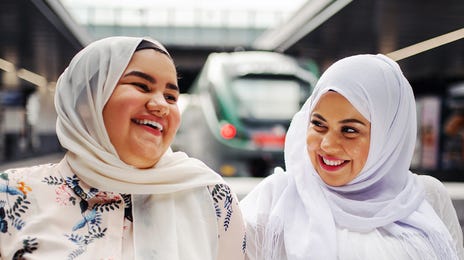 Online Arabic lessons
When you learn Arabic online you still enjoy our usual premium Berlitz experience, but without the commute to a language center.
Your lessons will be hosted live via video feed, so you can see, hear and interact with your instructor in real-time.
You will receive focused instruction from your Berlitz-certified native-fluent instructor who is not only an expert in the Arabic language and culture but who utilizes our proven Berlitz training method to get you fluent fast.
Our online Arabic courses offer you a high degree of flexibility and customization, so you can fit learning around your life and learn at a pace that suits you.
Your student portal also helps you to manage and keep track of your process, with your class schedule, course material, and progress tracking all in one convenient place.
Benefits of learning Arabic with Berlitz
Whether you're learning for work, travel, or social reasons, we can tailor Arabic lessons to meet your specific goals and needs.
You can choose to learn Arabic online.
Learn Arabic individually in a group, the choice is up to you.
Our proven Berlitz method will have you speaking Arabic from your first lesson.
You will spend around 80% of your class time actively speaking Arabic, thanks to the Berlitz present, practice and perform class structure.
Classes are available for all ages including programs specifically for children and adults.
We can create programs specifically for groups of company employees who need to acquire comprehensive language skills fast.
Berlitz has a proven track record of helping people to learn languages for over 140 years.
Why learn Arabic?
The Arabic language is spoken by over 290 million native speakers and 422 million non-native speakers worldwide. It is the dominant language used in North Africa, the Arabian Peninsula, and the Middle East, making it an important language in the business world— particularly if you are in industries such as energy, construction, or technology.
It is also the liturgical language of Islam, and if you are traveling around Islamic-practicing nations, having a working knowledge of Arabic will help you communicate with millions of people.
Find out more
Contact us today with your questions. We can work together to find the course that's right for you – with no obligation on your part. Fill in the form and your Berlitz team will contact you shortly.