Berlitz online language classes for kids (as of the age of 8) helps them uncover their talents and improve their understanding of the world, wherever they are. Learning a new language at an early age can enhance cognitive abilities and build confidence in a child - with online classes, there's no need to go to a language center, you just log in and learn!
One-on-one private tutoring
Our teachers are highly trained, fluent native speakers who are dedicated to working with children. Our instructor will work one-on-one with your child to build critical speaking and listening skills, using a conversational approach and age-appropriate materials to engage them. With the instructor's undivided attention, the Berlitz Kids & Teens Private Tutoring program is designed to focus on your child's individual needs.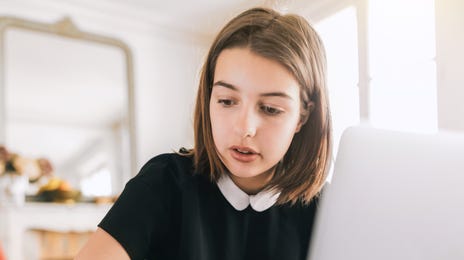 Our foreign language tutoring program includes:
Private language tutoring for kids aged 8–17
Tailored programs based on skill level, goals and timeframe
Flexible sessions with a live instructor via the Berlitz Live Online platform
OR Intensive online courses for kids and teens during school vacations
One on one language courses available for English, French, German & Spanish
Group classes for kids and teens
Online group English classes allow students to learn together in a small and intimate environment where they will have all the support they need.
Students will receive all required learning materials and language instruction from a qualified Berlitz instructor. Classes are based on the Berlitz Method with the opportunity to role-play between students.
Classes are held online via Zoom and each class consists of between 4 to 6 students (from the age of 8), which makes for a more individualized learning experience. There are 25 sessions with breaks during school vacation OR 1 or 2 intensive weeks during school vacation. At the end of the program students will receive a Certificate of Achievement from Berlitz indicating the CEFR level (depending on the age).
Language offered: English
Ready to enroll?
If you have all the information you need and are ready to get started, you can contact us via the form below and enroll now.
Find out more
Fill in the form below and we'll contact you to discuss your learning options and answer any questions you may have.