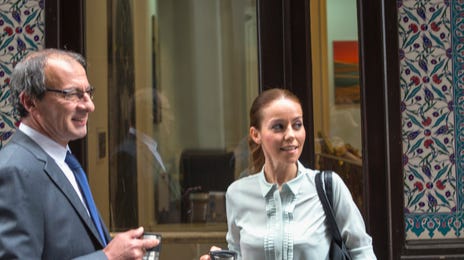 Why learn Hebrew at Berlitz?
Whether you're choosing to get closer to Israeli culture, opening up your understanding of philosophical and historical texts, or deepening your connection to a language at the core of Jewish identity, choosing to learn Hebrew at Berlitz is a great decision.
With over 140 years' of experience teaching languages to millions of people across the globe, you can rest assured that when you learn Hebrew with Berlitz you will get fluent fast.
Benefits of learning Hebrew with Berlitz
Our unique teaching method encourages you to learn to speak Hebrew first, so you can communicate in the new language from the very first lesson. This will also help you with Hebrew reading and comprehension.
Our instructors don't just teach the language, but also teach Israeli culture, expressions and accents
We give you the flexibility to learn the Hebrew language on your own time, around your schedule at a pace that suits you.
Online Hebrew classes
One of the biggest obstacles for many people looking to learn Hebrew is time. We understand the stresses of modern life, which is why we offer Hebrew lessons online.
Our online language class options offer flexibility, while also providing all of the advantages of the proven language-learning techniques we have perfected over more than a century.
All Hebrew classes happen in real-time under the expert guidance of a Berlitz-certified instructor, who will support and guide your learning journey.
In-person Hebrew classes
Enjoy the interaction of in-person learning at your local Berlitz language center. You can choose to learn in a group and practice speaking Hebrew with your new friends, or learn one-one one for a more customized learning experience.
Your classes will scaffold onto each other, to build your language skills every week, with up to 80% of class time spent actively speaking Hebrew.
Find out if there is a Berlitz language center location near you to explore in-person class options.
Reasons to learn Hebrew
Hebrew is one of the oldest languages in the world.
Its usage in the world was diminished at one point, but has been brought back to life and is now thriving.
Modern Hebrew comes from classical Hebrew, so you'll also begin to understand and appreciate classical Hebrew, a language in which the Old Testament and the Tanakh are written in.
You'll gain a deeper understanding of Jewish history and culture.
If you're planning to visit Israel, you'll be able to communicate and interact with Israelis more easily.
Find out more
Fill in the form below and we'll contact you to discuss your learning options and answer any questions you may have.