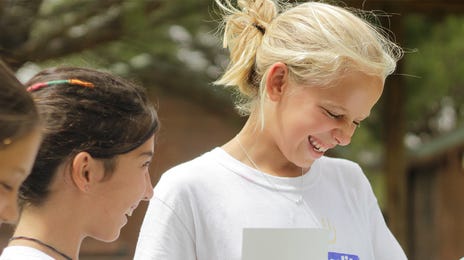 Berlitz English summer camp - the perfect adventure
What is the secret to the success of our popular summer camps? Combining language learning with fun free-time and sports activities. Held in Chianciano Terme, the camps allow kids and teens to actively practice English all day long, completely immersing themselves in the language from the time they get up to the time they go to bed.
Motivating language lessons in the morning encourage the young participants to speak, while in the afternoons and evenings, they continue to learn without even realizing it during a wide array of activities.

Berlitz international summer camps
Learning foreign languages is key to your kids' future success. Berlitz International Camps are the ideal solution to getting your young ones on the path to success at an early age. The camps are scheduled throughout the year during school holidays and are the perfect combination of fun and learning. Going abroad for international camps also gives your children the opportunity to explore the culture behind the language, enhancing their understanding of the multicultural world in which we live in!
Some 10,000 children and teenagers attend Berlitz language camps every year. We hope to welcome your child soon!
Benefits of Berlitz Summer Camps:
Safe, comfortable and all-inclusive camps in Italy and other countries
Combines instruction, sports activities, and creative workshops
Experienced, native-fluent camp counsellors
Learning by doing – the target language is spoken the entire day
Success boosts motivation

Find out more
Fill in the form below and we'll contact you to discuss your learning options and answer any questions you may have.