Group language classes allow you to learn, interact and socialize in a trusting environment. Small groups offer more interaction with your instructor and your classmates, so you can start speaking from day one.
Find one of our language centers near you and discover if they have the group language classes you want to take or read more about our online group classes.
Stay motivated with group language classes
With a group language course, you can advance approximately 1 level every 4 months. It consists of one session per week of 2 hours and 15 minutes. The digital Berlitz material is included. Please contact us for more information about the start dates.
You will receive all the attention and motivation you need while practicing your new language in a small group of up to six people.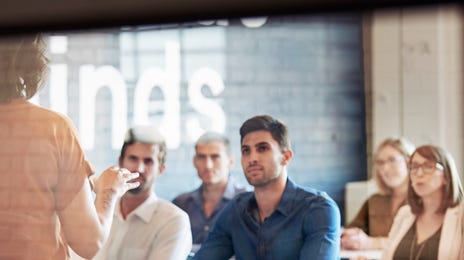 Our group language classes are for those who:
Want to learn the language in a more social and interactive environment
Prefer to have a fixed schedule
Are looking for a more affordable option to learn a language
Choose your group course
Small groups of 4-6 students
In-person lessons
Native-fluent instructor
Available languages:
English, French, German, Italian, Spanish, Russian, other languages on request.
What our learners say
I enrolled in a Russian course at Berlitz. It's my first experience with the Berlitz method and I'm really impressed because the learning is based on a conversation with a native-fluent speaker, from the first lesson you listen and speak only Russian. You learn the language naturally, just like we learned our mother tongue as children. The teacher uses a lot of fun tools, from picture books to didactic games. No grammar and no long lectures. I then reinforce the material at home with the help of a Berlitz textbook. It really works. I have been speaking the target language since the very first class.

Mojca, Journalist and TV presenter
Find out more
Fill in the form below and we'll contact you to discuss your learning options and answer any questions you may have.