Learn Slovenian online
Learning Slovenian online will open up the rich culture, history, and land that makeup Slovenia. When you learn Slovene online with Berlitz, you will explore both the language and the culture of Slovenia, equipping you with the skills to speak naturally in any social situation. Our online classes are immersive, interactive, and convenient, so enjoy all the benefits of in-person learning, from wherever you happen to be.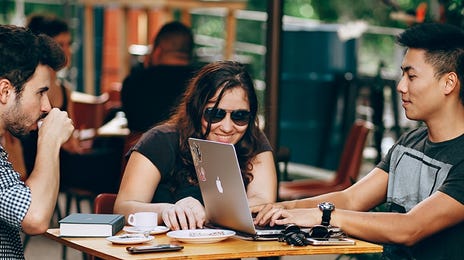 Our online Slovenian lessons
If you want to fast-track your fluency or work on a particular goal, then learning Slovenian online with a private instructor is the perfect choice for you. As the sole student, you will be guided by a native-fluent Slovenian instructor, working with topics that are interesting to you, with direct feedback on your progress.
If you like learning in a social environment, then our online group lessons are ideal. Interactive, engaging, and practical, these online classes will get you speaking Slovenian with your new friends from day one.
Discover our online Slovenian lessons
Our online courses give you the same high-quality learning experience as our in-person classes, without the hassle of travelling to your local language center.
How to learn Slovenian online
Step 1: Explore the range of online Slovenian courses we offer.
Step 2: Get in contact with us so we can assess your skill level and personal preferences, to match you with your perfect course.
Step 3: Enrol in the program you have selected.
Step 4: Learn Slovenian online and practice your skills.
Step 5: Receive feedback from your instructor and progress through to fluency.
Benefits of learning with Berlitz
All our language courses are:
Start speaking Slovenian from your first lesson with Berlitz's immersive, interactive learning style.
Create a flexible timetable that suits your life and goals.
Just like learning the language in Slovenia, your lessons will be held in-language, so you rapidly develop language skills.
Our classes are highly practical, and you will spend 80% of course time actively speaking Slovenian.
Find out more
Fill in the form below and we'll contact you to discuss your learning options and answer any questions you may have.