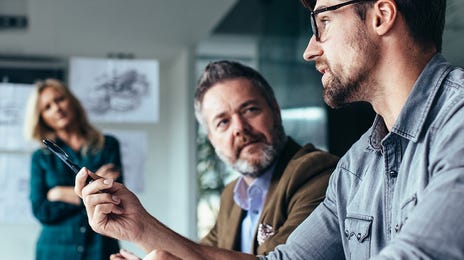 Creating a comprehensive corporate language training program enables your employees to be more productive and effective. Berlitz's business language training is designed to meet the needs of busy professionals. Whether you need individual language lessons for senior executives, group courses offered on campus or intensive private language training for employees moving abroad, we can provide packages and plans that are catered to you and your business.
As companies expand globally, the risk for miscommunication increases dramatically. Berlitz has vast experience and expertise in teaching real-world language and cultural fluency to business people around the globe. Our language training for business helps your teams to speak and write at the language level that is appropriate for their business role and help them understand and embrace other cultural teams they are likely to work with to drive productivity. Our immersion classes, our face-to-face language training, and our online tools can provide flexibility that works for busy schedules and varied budgets.
We are people-centered and business-focused
Our language training for companies program will help you train one employee or your entire organization. Corporate language training can be taken face-to-face or online, always with live, instructor-led lessons for maximum learner participation. Our enthusiastic, fluent instructors will help ensure that your employees learn the language spoken in the real world.
Choose your business language training
Berlitz offers:
Customized programs, catered to suit the needs of your business and teach the skills your staff needs to meet business goals, according to your industry and their job function.
Communication tools, like Cultural Navigator, to identify gaps in communication styles.
Content with vocabulary specific to your business.
Multiple, instructor-led delivery options, including face-to-face at a learning center or on-campus, online, or a blended option so that your employees can learn according to their schedules and learning preferences.
Find out more
Fill in the form below and we'll contact you to discuss your learning options and answer any questions you may have.