Learn German online with Berlitz UAE
As a result of our many years of experience, we at Berlitz United Arab Emirates have optimized our course program so that we can find the perfect language course for everyone. People learn differently, so we have designed our courses to offer you the freedom to decide for yourself whether you would rather learn more on your own or overcome the hurdle of language learning together with our language trainers.
We offer innovative learning through modern technology and take great care not to use obscure phrases in class that are not useful in the real world. Collaborative learning is important to us, which is why you can help shape the lessons according to your own ideas.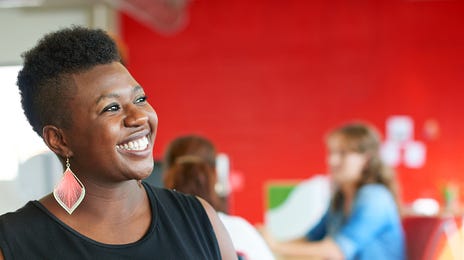 Our online German courses
Private German courses with online tutoring
If you are looking for personalized online German courses, this modality is for you. You can decide your own schedule and get real-life feedback from your Berlitz instructor.
Group German courses with online tutoring
Enjoy the interaction with your classmates and consolidate your German knowledge through conversations.
Online German self-study platform
You can access our self-study platform at any time and thus practice German online around the clock. Many exercises can be completed in just a few minutes, making them particularly flexible to integrate into your daily routine.
Discover our online German lessons
At Berlitz UAE, we offer you various options to learn German online.
How to learn German online
Step 1: Check out our online German courses.

Step 2: Contact us and choose the program that meets your needs based on your fluency level.

Step 3: Sign up for one of our online German lessons.

Step 4: Study and practice.

Step 5: Get feedback.
Benefits of German tutoring online with Berlitz UAE
Our Berlitz German courses offer you maximum flexibility and let you decide when, where and how often you want to practice German online.
Every person is different. At Berlitz UAE, we recognized this early on, which is why all of our German courses are designed to meet the personal needs of our students.
Our students are only as good as our learning methods. That's why we use technological innovations to constantly optimize our German lessons.
Berlitz has been around for over 140 years. We have used this time to pass on proven learning processes to our language teachers so that this can be optimally applied in German lessons.
Learning a new language also means thinking outside the box. Therefore, it is important for us to also integrate cultural contexts and characteristics into the language course.
Find out more
Fill in the form below and we'll contact you to discuss your learning options and answer any questions you may have.
Frequently asked questions
Berlitz UAE offers online German courses, where you can take private, group, intensive, and self-paced lessons. Our German courses are equally available for adults, kids and teens, and companies.
All our classes are fully flexible and can be customized according to your needs and schedule. You can even mix and match your online and in-person German lessons in Dubai or Abu Dhabi and create a hybrid language program for yourself.
Students engage in a long speaking activity by the end of each lesson to confirm they can now use the language learned. In addition, a progress report is generated mid and end of level.