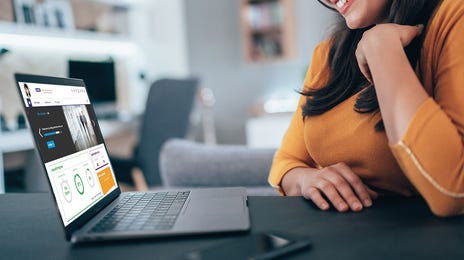 Learn a language online – at your own pace: Berlitz Connect
Learn your chosen language the way it suits you best: online in individual training, in a group, or with e-learning. Our motivated Berlitz trainers are always there live and will effectively help you achieve your language goals.
Choose your online language course
Learn a language online quickly and confidently and simply select from the variety of instruction formats below that will equip you to achieve your language-learning goals regardless of location.
The Berlitz Virtual Classroom (Anywhere) makes it possible for you to learn individually or in a group without having to attend a class on site. You still have scheduled lesson times and required exercises, but you can participate from wherever you are – as long as you're online!
Blended Language Learning
Are you looking to combine your online language course with another online learning option or face-to-face instruction? Berlitz lets you mix and match courses in a variety of combinations. You always have an eye on your budget and your goals.

Self-study online
On our online independent-study platform you select your areas of focus and have round-the-clock access to your online learning modules. With our self-study plattform you can learn German, English, Spanish, or French – at your own pace and whenever it suits you.
Find out more

Contact us today with your questions. We can work together to find the course that's right for you – with no obligation on your part. Fill in the form and your Berlitz team will contact you shortly.