LILATE® partner center
LILATE® (Live language test) is a 60 minutes videoconference certification test with a native speaker.
LILATE® enables all professionals in the job market to assess a candidate's operational language skills.
Official LILATE® website: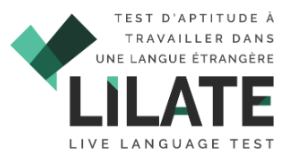 Why choose LILATE® certification?
An ecological test: LILATE® is carried out completely online, via videoconference. There's no need to travel.

A full test: An assessment of 4 language skills based on the CEFR.

An human assessment: A mother-tongue examiner guides you through the assessment process.

A professional and adaptive test: LILATE® adapts to the professional needs and level of candidates.

Flexibility and fast results: You can take the test all year round, on weekdays or weekends, and results are available within 24 hours!
LILATE® - eligible languages
English
Spanish
Italian
Japanese
Portugese
Arabic
Chinese
German
Russian
The LILATE® test procedure
The LILATE® test is designed to assess the ability to work in a foreign language. Its main aim is to measure language skills in a professional context. The assessment will be divided into four main parts, each lasting 15 minutes. Each part will consist mainly of role-playing exercises.
Connect to your testing room from your candidate area.
Checking your identity
Your test

Part 1 - Welcome and interaction
Part 2 - Collection and transcription
Part 3 - Collection and transmission
Part 4 - Collection and processing

Your result
Find out more
Fill in the form below to ask us your questions. Your Berlitz team will contact you shortly.