Linguaskill certification preparation course (Bulats)
The Linguaskill Certification is an online English language assessment designed to test a candidate's level from A1 to C2 of The Common European Framework of Reference for Languages (CEFR). It is used primarily by educational institutions and organizations to assess a student's or employee's English proficiency. It has replaced BULATS (Business Language Testing Service) which was discontinued in 2019.
Linguaskill can test candidates in all four language skills; speaking, writing, reading and listening, and the results are valid for two years. The test comprises of a listening and reading section that is mostly multiple choice (60-85 minutes), a writing test (45 minutes) and a speaking module (15 minutes) where your answers are recorded and assessed by a computer and later verified by an examiner.
A Linguaskill practice test can help you familiarize yourself with the exam and the types of questions you'll be expected to answer.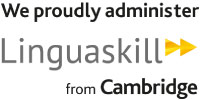 Benefits of preparing Linguaskill certification with Berlitz:
Targeted preparation for the test format with corresponding learning content
Intensive private lessons with a native-fluent trainer
You can take the test directly at the Berlitz center on demand
What happens if I don't pass?
The Linguaskill Certification is an assessment to help determine your English proficiency from level A1 to C2 of the CEFR, therefore you cannot fail. Upon completion of the test, you will receive a score ranging from 82 to 180, and its equivalent CEFR band—A1, A2, B1, B2, C1 and C2. A low score (82-99) corresponds to a beginner level, while a higher score (180 and above) is considered proficient. To achieve a higher score, you can take a Linguaskill preparation course, which can help you practice your English and improve your performance in the test.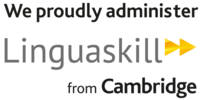 For more information please complete the form below.
Find out more
Fill in the form below and we'll contact you to discuss your learning options and answer any questions you may have.