Children have the ability to grasp new languages quickly, which means the best time to teach your child a new language is now. The Berlitz English program is a basic English course for kids between the ages of 4 and 7. Combining interactive games, socialising and learning this program is an excellent way for your child to gain confidence in their chosen language.
Language courses specially designed for kids
In our increasingly global and connected society, learning a language and understanding a new culture is becoming more essential than ever before. The sooner you can lay the groundwork for your child, the better. Our trainers are specially trained to teach children. With playful methods, creative stories, songs and games, they work to teach your child to speak English naturally by stimulating their imagination. This makes learning a language relevant, accessible and fun!
D of IDEAL framework: Inspire - Discover - Explore - Achieve - Lead
D stands for Discovering the world through a new language with in-person language courses. For this program, our goals are based in oral comprehension and expression, phonetics and pronunciation and the acquisition of vocabulary through themes such as family, animals and the home.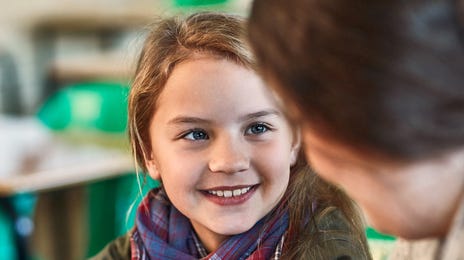 How do our English courses for young kids work?
We offer two different in-person English courses for kids:
The kindergarten children's course with 2 levels, for children aged 4 to 5 years
The primary course for children with 4 levels, for children aged 6 to 7
There are 25 sessions at each level. The topics covered are adapted to suit your child's age. Each student will receive their learning material including a colorful picture book, an activity book and digital materials.

Benefits of Berlitz English classes for kids
With Berlitz' teaching model, children can learn quickly through stories, games, songs and other interactive activities that will engage their curious minds. The emphasis on oral comprehension means they are receiving an immersive experience, which completes a strictly academic approach. Our goal is to help build their confidence in speaking English with the proven Berlitz Method and activate their natural abilities in learning a new language.
Find out more
Fill in the form below and we'll contact you to discuss your learning options and answer any questions you may have.