Berlitz focuses on teaching students English the way it is spoken by native speakers, with an emphasis on oral expression. Using this method, young people are encouraged to practice English as naturally as they speak their own language. English classes for teens can be taken individually, in a group or online.
Languages courses specially designed for teens
A&L of IDEAL framework: Inspire - Discover - Explore - Achieve - Lead
A stands for Achieving useful and real world language skills, while L stands for developing Leadership and culture awareness. For this program, our goals are to develop oral and written comprehension and expression, the revision and acquisition of vocabulary and grammatical structures and to improve overall confidence in speaking the English language.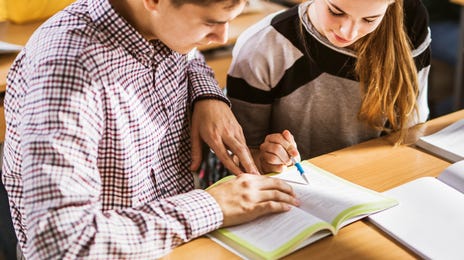 How do our English courses for teenagers work?
Based on the Berlitz Method, our English courses are private or undertaken in small groups to encourage teens to speak and participate in a welcoming and intimate setting. Students will receive a learning manual, a workbook, and access to multimedia content created by National Geographic Learning on the beauty of our planet and the protection of the environment. The guiding principle of the program is to underline the diversity of civilizations and cultures around the world. At the end of the program, the children gain self-confidence and improve their fluency in English.
You'll have plenty of flexibility in choosing what type of classes you'd like your teenagers to attend. Lessons can be undertaken in-person, in private or in groups (depending on the Berlitz centers) or online.
Benefits of our English classes for teens
From improving confidence to gaining an immersive learning experience, here are some of the benefits of learning English for teens:
Interaction and communication skills
Interesting and stimulating content adapted to the level and the age of the student developed in collaboration with National Geographic
Native-fluent trainers encourage exclusive use of English
Language immersion thanks to the tested and proven Berlitz Method
Find out more
Fill in the form below and we'll contact you to discuss your learning options and answer any questions you may have.