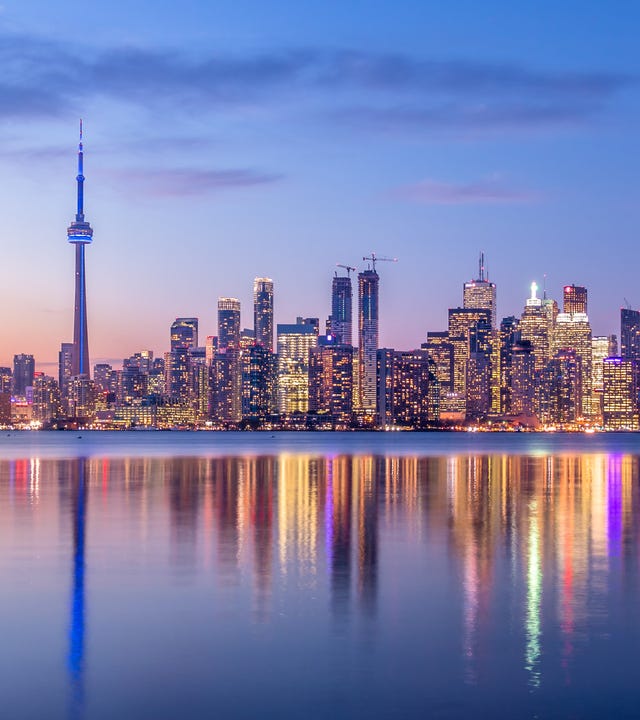 Language school in Toronto
Address:
141 Adelaide Street W,
Suite 220 Toronto, ON Ontario M5H3L5
Classroom Hours:
Monday - Friday

8:00 - 22:00

Saturday

9:00 - 16:00
Location of our language school in Toronto
Located in the heart of the central business district in downtown Toronto, our Toronto language school is close to shops, cafes, restaurants, parking facilities, and is within walking distance from the PATH Underground Shopping Center.
How to get to Berlitz Toronto
Berlitz Toronto is located on Adelaide Street West, making it easy to get to via car or bike. Traveling by public transport? We're just a few minutes away from the King subway stop and King St West at University Ave West Side transit stop.
About the Toronto language school
Situated on the second floor of 141 Adelaide Street West, our Berlitz language center is fully wheelchair accessible and features five state-of-the-art classrooms.
We offer a range of language classes in Toronto that are designed to meet your specific needs and learning preferences. Whether you like to study one-on-one with a native-fluent instructor, or in an interactive small class environment, or if you're studying for work, travel, education, or interest, we have a course that's perfect for you.
Discover all the languages you can learn at Berlitz Toronto
What our learners say
Thanks to Berlitz for the French refresher course. The Toronto Language Center did a tremendous job!

Navdeep Bains
Find out more
Fill in the form below and we'll contact you to discuss your learning options and answer any questions you may have.
Frequently Asked Questions
Depending on your requirements, you can learn English in Toronto and many other languages.
Besides English, Berlitz Toronto offers language classes in French, German, Spanish, Italian, Portuguese, Mandarin, Korean, Japanese, and other languages upon request.
In Toronto, Berlitz offers a diverse range of language courses to meet the needs of language learners. Whether you prefer in-person classes, online learning, are a beginner seeking foundational knowledge, or desire an intensive language experience, Berlitz has you covered. Additionally, if you prefer a self-paced study approach, they provide options for independent learning. Here are the various types of language courses offered by Berlitz in Toronto:
In-Person Language Courses: Berlitz provides in-person language courses at their Toronto language center. These courses offer a traditional classroom experience where you can interact directly with instructors and fellow students, enabling a dynamic and immersive learning environment.
Online Language Courses: Berlitz offers online language courses that provide the flexibility to learn from anywhere with an internet connection. Through their virtual platform, you can access interactive lessons, engage in live sessions with instructors, and receive personalized feedback, allowing you to study at your own pace while enjoying the benefits of real-time interaction.
Self-Paced Study Options: Berlitz understands that some learners prefer a self-paced study approach. They provide materials and resources for self-study, including books, audio recordings, and online learning platforms. These resources enable you to learn at your own pace and tailor your study schedule to your individual needs and preferences.