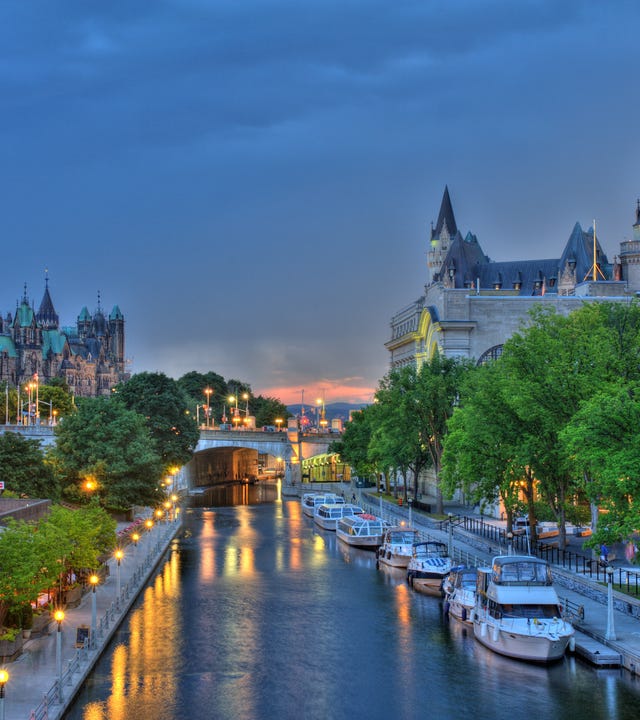 Language school in Ottawa
Address:
350 Sparks St,
Suite 1001 Ottawa, ON Ontario K1R 7S8
Classroom Hours:
Monday - Friday

8:00 - 19:30

Saturday

9:00 - 16:00
Location of our language school in Ottawa
Berlitz Ottawa is centrally located in Ottawa in a 12-story high-tech office building, steps from National War Memorial and Confederation Square, near Parliament Hill and National Gallery.
How to get to Berlitz Ottawa
Our language center is located between Lyon and Bay, directly across from the Lyon Street LRT station, with its easy access to the Queensway, it is convenient for everyone, you can ride your bike, drive, walk or use public transport.
About the Ottawa language school
Berlitz's modern building has a wonderful view and the property is adjacent to the new Hilton Homewood Suites and Hilton Garden Inn, which provides the added benefit of enjoying coffee in the coffee shop located on the second floor or a meal in the restaurant located on the first floor.
We have 16 modern classrooms with air conditioning where you can attend the in-person language courses in Ottawa.
Discover all the languages you can learn at Berlitz Ottawa
What our learners say
I have been learning German at Berlitz for about 6 months now after spending 2 years trying with Duolingo. I have found that my pronunciation has improved immensely and I have finally started to understand some of the patterns in the language. The staff is very friendly and the instructors are native speakers. It is not cheap, but it is great value for money.

T Jordan
Find out more
Fill in the form below and we'll contact you to discuss your learning options and answer any questions you may have.
Frequently Asked Questions
If you're looking for a place to study a language in Ottawa, Berlitz Ottawa is an excellent option. Berlitz is a renowned language school with a strong presence worldwide, offering comprehensive language learning programs for individuals of all levels and needs. Berlitz Ottawa provides a wide range of language courses, including English, French, Spanish, German, and many more.
What sets Berlitz Ottawa apart is our immersive and communicative teaching approach. The Berlitz Method emphasizes practical language skills through interactive lessons, small class sizes, and experienced instructors. Whether you're a beginner or an advanced learner, Berlitz Ottawa can tailor their programs to meet your specific goals and objectives.
Additionally, Berlitz Ottawa offers flexible scheduling options, allowing you to choose from group classes, private lessons, or a combination of both. This flexibility ensures that you can find a learning format that fits your availability and preferred learning style.
If you're looking for SLE (Second Language Evaluation) preparation in Ottawa, Berlitz Ottawa is a reliable option. Berlitz is a reputable language school with a global presence, offering comprehensive language programs tailored to various needs, including SLE preparation.
Berlitz Ottawa understands the specific requirements and challenges of the SLE exam and can provide targeted preparation to help you succeed. Their experienced instructors are well-versed in the SLE evaluation process and can guide you through the necessary language skills and strategies needed to excel in the exam.
Berlitz Ottawa's SLE preparation program focuses on all aspects of the exam, including reading comprehension, writing, grammar, vocabulary, and oral communication skills. The instructors will work closely with you to identify your strengths and areas for improvement, creating a customized study plan that addresses your specific needs.
Furthermore, Berlitz Ottawa provides a supportive and motivating learning environment to boost your confidence and enhance your SLE performance. The small class sizes or one-on-one instruction options ensure that you receive individualized attention and feedback to maximize your learning outcomes.
With flexible scheduling options, Berlitz Ottawa allows you to choose the study format that suits your availability and learning preferences. Whether you prefer group classes, private lessons, or a combination of both, Berlitz Ottawa can accommodate your requirements.
When it comes to SLE preparation in Ottawa, Berlitz Ottawa is an excellent choice. Their expertise in language training, experienced instructors, and personalized approach make them well-equipped to assist you in achieving success in the SLE exam. Enrolling in Berlitz Ottawa's SLE preparation program will provide you with the necessary skills and confidence to perform well in the evaluation and advance your language proficiency.