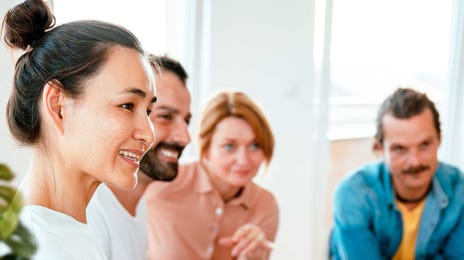 Teach German with Berlitz
Are you native-fluent in German? Why not turn your spare time into cash while changing lives as a German teacher with Berlitz.
Berlitz has over 500 locations across 75 countries as well as flexible online learning options, so there are plenty of opportunities for you to get a job teaching German at one of our learning hubs across the globe, or from the comfort of your own home.

Check out the current German teaching jobs on offer.
Why should you teach German as a job with Berlitz?
Earn in your free time: As a part-time German teacher with us, you can still work or study full-time while fitting teaching around your main hours. You can choose how many hours you want to teach German and turn your spare time into a regular income stream.
Support, training, and resources: You'll begin teaching German with us by undergoing our Berlitz Method teacher training. Here we'll equip you with the skills to teach our exclusive Berlitz Method. You'll also have access to resources that will help you plan and run your lessons and ongoing support.
Join the leaders in language education: With over a century of experience teaching languages, Berlitz has built a reputation across the globe as an industry leader in language education.
Change lives: When you teach German, you help to change students' lives. Whether they wish to travel, work in Germany, increase employment opportunities, connect with loved ones or study overseas, your German teaching will give them the skills and confidence to turn their dreams into reality.
Share your passion: You love the language and when you teach German to your students, you get to share your passion with people who are actively interested and engaged in learning German.
A job you can take with you: There will always be a demand for German language teachers, and with the popularity of online learning coupled with over 500 Berlitz locations worldwide, you can travel and take your job with you.
About Berlitz: and why you should work with us
At Berlitz, we know language changes lives. That's why we're passionate about connecting people through language. We have over a century of experience immersing students in language through our world-renowned Berlitz Method, which is the fastest way for students to learn when not living in the country of language origin. We have over 500 Language Centres across 75 countries and offer classes for children, teens, and adults worldwide.
German Teaching Levels
We have developed a standardized measurement for German proficiency in our students: Functional, Intermediate, Upper Intermediate, Advanced and Professional.
As a Berlitz German Teacher, you may find yourself teaching students all across this scale. You may also find yourself teaching in a few different settings, for example, in a small-size social group, or one-on-one.
What you can expect as a German teacher
Your Berlitz journey will start with an intensive five-day Berlitz Method training course where you'll learn the Method and how to get the best from your students.
Your lessons will be mostly spent in-language, using our 'Present, Practice, and Perform' methodology.
You will provide cultural context to help your students learn how to speak German confidently and naturally in any situation.
You can access lesson planning resources and in-class activities via our teaching resource centre to help run your classes.
Your German teaching may extend to small group classes (of up to 12 students), private coaching, and intensive group courses.
We have five German language proficiency levels: Functional, Intermediate, Upper Intermediate, Advanced and Professional.
If you are teaching German online, you'll need a stable, wired internet connection, a minimum of 5 Mbps download speed / 2 Mbps upload speed, a laptop or Mac, and a USB headset and a camera.