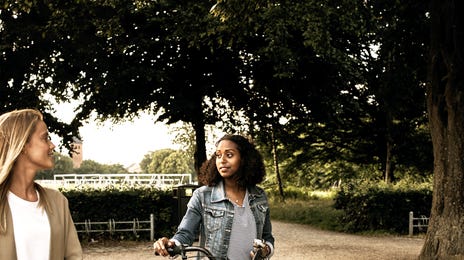 A proven way to learn Spanish.
The Spanish classes offered by Berlitz incorporate all of our proven language learning tactics into the curriculum. This includes the Berlitz Method, which focuses on immersive language learning that is based on applicable language skills. Our Spanish classes are designed to help you feel comfortable speaking, writing and listening to Spanish in real-world settings.
The Berlitz Spanish classes are offered in a variety of different settings, ranging from group classes to private, one-on-one lessons.
Learn Spanish online
Our online language classes feature all of the benefits of our in-person learning. You will learn with a native -speaking instructor and will have live lessons, where you can interact with the instructor. Our online Spanish classes incorporate the Berlitz Method and allow you to learn around your schedule. You will be able to schedule your own online Spanish courses based on the class schedule and when you are available.
Learn Spanish in person
Berlitz offers in-person Spanish classes at our several center locations. Our face-to-face lessons include learning with a native-fluent instructor who teaches using the Berlitz Method to encourage natural conversation skills, getting you speaking in your chosen language from day one. Find out if there is a Berlitz Language Center location near you to explore in-person class options.
Why learn Spanish?
An estimated 460 million people speak Spanish, making it the second most spoken language on the planet behind Chinese. It is the official language of 20 countries, which span three continents (Europe, North America and South America). These stats highlight the global nature of Spanish, making it the perfect language to learn. When you learn Spanish, you will truly have the ability to communicate with millions of people from across the planet.
What our learners say
"The one-on-one Berlitz course was perfectly suited for my needs. I will be signing up for it again soon"

John, USA
Schedule a free demo
Fill in the form below and an enrollment advisor will contact you to set up a free demo and discuss our language options with you.