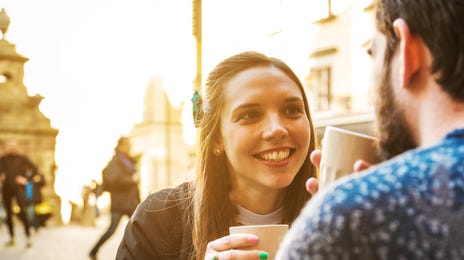 The best way to learn German online
One of the keys to learn German online is flexibility. With Berlitz, our online German classes provide flexibility in multiple ways, making it easier than ever before to get started speaking german now.
Choose between private, group and self-study 
Access to real-time, live lessons with an instructor 
Lesson plans that work with your schedule
Payment options to fit your budget
Choose how you want to learn German online
Have questions?
You can speak to an Enrollment Advisor to discuss your budget, goals and timeline so we can figure out the best course option for you. We can also schedule a demo lesson so you can get an idea of what our immersive lessons are like.
What does it take to learn German online?
Learning German online will take practice, dedication and patience. It will also take a specific learning plan to ensure you learn all the different skills needed to gain confidence and comfort speaking German. 
So, what do you need to know to become conversational in German?
Learn German vocabulary
To start with, you will need to learn German vocabulary. Words are the basis of language and without understanding German words and phrases, you will not be able to speak the language. That being said, there is a real difference between memorizing some words and phrases in a book and actually learning them. 
With Berlitz, you will learn German vocabulary by speaking. This means you will not only learn the meaning and pronunciation of the words, but also how to use them. 
Learn German grammar
Like vocabulary, grammar is at the core of language. Learning words and phrases are great, but in order to actually use them, you will need to understand German grammar. It is the structure of the language.
With Berlitz, our grammar lessons are focused on sentence construction and expressing complex ideas. As you progress with our online German classes, you will continue to learn more grammar, however, the focus will always be on useful grammar that will help you with speaking the language.
Learn German conversation
Speaking German relies on vocabulary and grammar; however, it is also a skill that must be learned. It is much more than just understanding vocabulary and grammar.
With Berlitz, all of our lessons are focused on German conversation. We focus on specific speaking skills that are designed to make you more confident and comfortable speaking the language.
Learn German culture
The last and often forgotten aspect to learning German online is culture. For all the lessons you can take in vocabulary, grammar and speaking, without cultural knowledge, you will always find it difficult to use the language. 
With Berlitz, we put cultural teachings into all of our lessons. As you learn about vocabulary, grammar and speech, you will also learn how it fits into the wider cultural spectrum in Germany. With this knowledge, you will not only have the confidence in the actual language, but also the culture, meaning you can speak as if you were from Germany. 
Frequently asked questions (FAQs)
Classes in this format can be done in several different ways, whether it's via a live instructor or self-paced study. Choose a format that best suits your routine.

Your classes can start as soon as you are enrolled. Then just choose a course module, and start learning step by step how to communicate in the new language with the support of our team.

Berlitz is a language school that has been on the international market for many years, bringing success to an incredible range of people of different nationalities.

You get in what you put out. To be fluent you will have to be consistent and dedicate yourself to achieving your goals. We'll give you all the tools, support and confidence you need to achieve this.

Request pricing and course information
Contact us to speak with an enrollment advisor about our pricing, flexible payment plans and to get more information about our language programs.