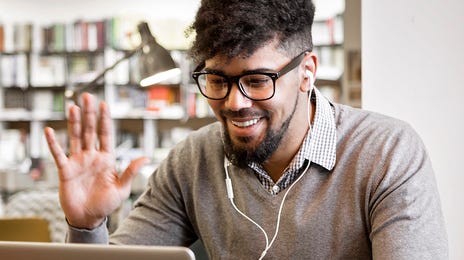 When you learn Italian online with Berlitz, you can select the best option for your needs. We offer two online Italian course options: private and group. This means whatever your reason for learning Italian online, we've got an option for you. 
And no matter what option you choose, you will get live, interactive lessons with a Berlitz instructor. Conversation is at the core of our proven methodology, and is woven into our online Italian classes the same way it is in our in-person classes.

Same proven results, convenient delivery
Our online Italian courses are designed to mirror the same experience you would get in a classroom, but with the convenience of being able to learn in your living room. Our immersive method has proven to deliver the fastest, most effective language results. Now, you can get those same results as you learn Italian online.
The key is the inclusion of live lessons. During these lessons, you will be able to interact with a Berlitz instructor in real-time. You will get immediate feedback and will have the ability to converse with the instructor in Italian. All the same proven learning techniques, but without having to travel.

Frequently asked questions (FAQs)
No, you can start from scratch, with the basic proficiency level. You'll evolve and move to the next levels based on your progress and your newly acquired language skills and when it suits you. We'll give you all the support you need to develop your fluency within the language.
No language is difficult to learn with specialized teachers, quality teaching methods, and dedication to studying. The more you focus and practice the more confidence you will gain and the easier it will be to learn the Italian language, regardless of whether the class is in person or online.
Yes. In addition to our teachers being native speakers, you will sometimes have the chance to meet other classmates of other nationalities, including native Italian language speakers.
Yes. You can choose to take classes individually, in groups or in pairs. You can choose the format that you are most comfortable learning the language with. Studying alone may require more discipline and organization on your part, but it certainly has its advantages.
Call Us
Fill in the form below and we'll contact you to discuss your learning options and answer any questions you may have.