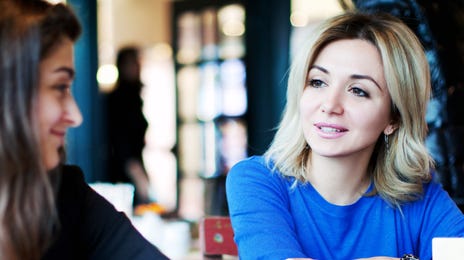 The best way to learn Latvian
Learn the skills and cultural understanding you need to converse in Latvian like a native speaker. With Berlitz, we take language off the page and give it life through a highly practical education coupled with the cultural knowledge you need to speak fluently and naturally.
You can also choose where, when and how you study, thanks to our flexible Latvian lessons. So whether you're a beginner or have some Latvian language skills, Berlitz will help you reach your goals in a way that suits your individual needs.
How Latvian lessons work at Berlitz
You will spend 80% of each Latvian lesson speaking the language with plenty of direct feedback to help you perfect your skills.
From day one, you'll be speaking Lavian in your lessons.
We have over 140 years' experience teaching language, so when you study with Berlitz, you're in experienced hands.
Study around your commitments with Berlitz' flexible study options.
Whether you want your child or teen to learn Latvian, or you yourself would like to up-skill, Berlitz offers Latvian lessons for all ages and levels of experience.
If you have a group of employees you would like to learn the language, we can create Latvian classes to meet your needs.
Open your world with Latvian
Open up a world rich in history, folklore and culture by learning the language of Latvia. With only 1.7 million people worldwide able to speak Latvian, learning the language will set you apart from the crowd when it comes to jobs and study options. Having a working knowledge of the language is also necessary if you want to travel throughout the country, as English is not widely spoken. Latvian lessons will also help your brain by building your memory and forming new brain synapses that ultimately help to keep your mind healthy and active.
What our learners say
"The one-on-one Berlitz course was perfectly suited for my needs. I will be signing up for it again soon"

John, USA
Schedule a free demo
Fill in the form below and an enrollment advisor will contact you to set up a free demo and discuss our language options with you.