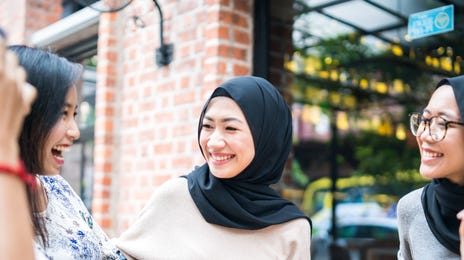 Learn Indonesian with Berlitz
Give yourself a thorough understanding of the Indonesian language and how to use it off the page and in the real world by learning with Berlitz. 
Designed to immerse you in the language and the culture, our Indonesian lessons and classes will give you the confidence and competence to converse fluently with native speakers anywhere, any time.
How Indonesian lessons with Berlitz work
Berlitz has over 140 years' of experience teaching languages, so you can be assured that you're in expert hands.
You will begin your journey to fluency by speaking the language from your first lesson Bahasa Indonesian lesson.
You will spend 80% of every Bahasa Indonesian class speaking in-language to fast track your language skills.
We cater to all ages and levels of experience including kids, teens and adults.
We can create courses specifically for groups of employees who need Indonesian language skills for work.
Open your world with Indonesian
Develop mental flexibility and problem-solving skills by learning Indonesian. The official language of Indonesia is one of the easiest second languages to pick up. It is especially important to learn if you are hoping to do business in the region, or travel across one or more of the 17,000 Islands that make up Indonesia.
Bahasa Indonesian is the official language of the country and understanding the language is essential if you're wanting to work, study or travel there, as the majority of the population only speak this one language.
What our learners say
"The one-on-one Berlitz course was perfectly suited for my needs. I will be signing up for it again soon"

John, USA
Schedule a free demo
Fill in the form below and an enrollment advisor will contact you to set up a free demo and discuss our language options with you.