Choose how you want to learn Malaysian online
We offer private and group online options for learning Malaysian.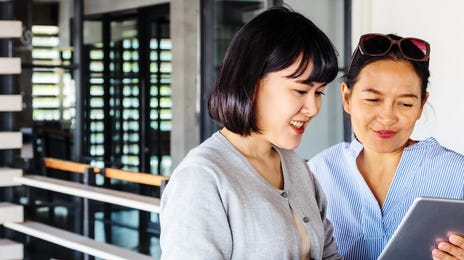 Why Learn Malaysian Online at Berlitz
Malaysian is the national language of Malaysia, Singapore, and Brunei. If you're interested in travelling through these countries or working in the regions, then having a working knowledge of the language is essential. 
Fortunately, with Berlitz online learning, you don't have to sacrifice any of your commitments to attend classes. You have the flexibility of choosing when and where you learn and the support of an expert trainer to guide your journey.
Benefits of learning Malaysian online at Berlitz
A century of success
For over 100 years, Berlitz has been opening up the world of language with expert advice, proven training and support as individual as you are.
Online classes to study from wherever you are
With online learning, there are no classrooms, so you choose where you study.
Study at your own pace with total flexibility
Our flexible timetabling means you can choose to study as fast or as slow as you want.
Intensive courses available
If you need language skills fast, our intensive courses will take you on a deep dive into the Malaysian language to give you the skills and knowledge that you need to navigate the language with ease.
Certified and experienced teachers
Our trainers are all certified native language experts that will help guide your learning journey through direct feedback and support.
How learning online works with Berlitz
Frequently asked questions (FAQs)
Personal relationships are essential when doing business with Malaysian counterparts, and it's not unusual for meetings to start with small talk. Big decisions are usually made from the top down. When embodying Malaysian business culture, you should get to know the person, show respect to their status within the company and understand that patience and non-aggression will be traits that your Malaysian peers will appreciate.
With Berlitz, we use a proven technique known as the Berlitz Method, an immersive way of learning that gets you speaking from day one with us. This method will give you the confidence and skills to speak the Malaysian language as quickly as possible, under the guidance of native-level language trainers. 
Additionally, bring a positive attitude and embrace your learning with enthusiasm, and you will already have laid the foundations for learning the language easily, efficiently and successfully!
Yes, much of the content in our online courses are downloadable, so you can access it even when you're not connected to the Internet.
Schedule a free demo
Fill in the form below and an enrollment advisor will contact you to set up a free demo and discuss our language options with you.