New Year's is the time for new beginnings, resolutions, and riding the wave of newly acquired motivation. What better time to start learning a new language like German?
Maybe you can soon practice those language skills on a trip to a German-speaking country. They have some of the best cities and places to visit for New Year's Eve, whether you're planning to party with a million people or looking for a quiet spot in the mountains to escape the turmoil.
We'll tell you exactly where to spend this special time of the year, how to say happy new year in German, and what to expect when you're there. Get ready for some beautifully weird New Year's traditions - from pig runs to flammable drinks.
Beginning your German language learning journey? Download your free German language essentials eBook here.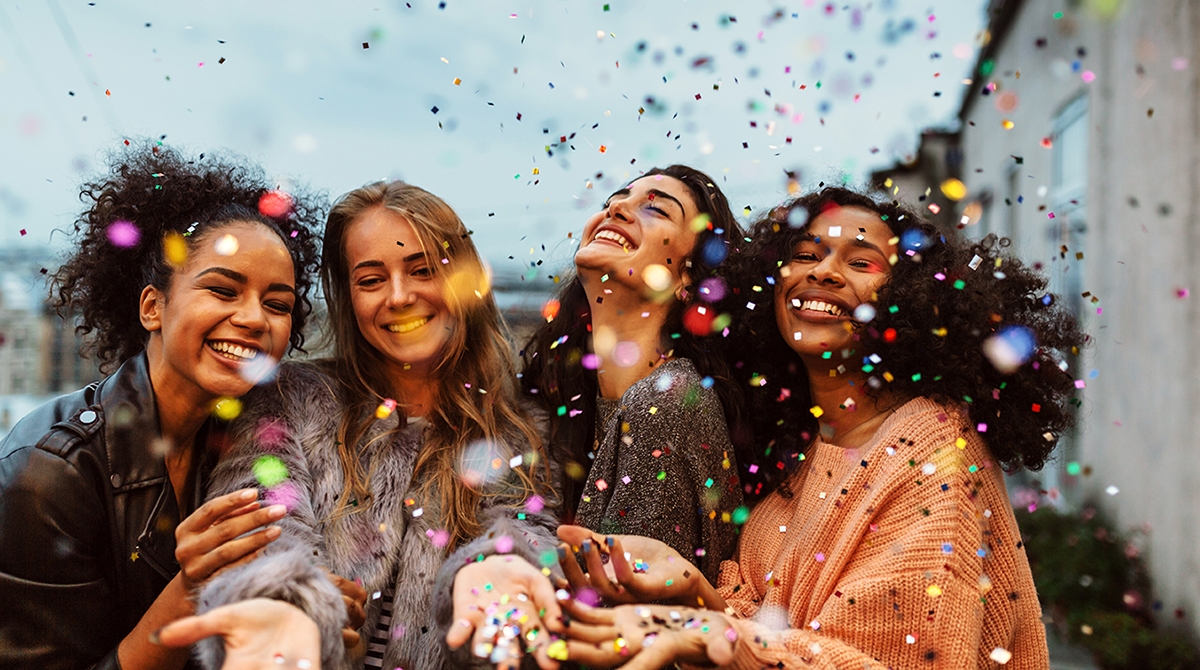 How to say Happy New Year in German
"Happy New Year" in German is "frohes neues Jahr".
There is another common phrase we use explicitly for new years: "Guten Rutsch!" It translates to "good slide," and funny enough, it's completely senseless. Derived from the Yiddish phrase "a git Rosch" (ראש השנה טוב), it means "a good beginning."
Most likely, that Yiddish phrase was jokingly translated to the similar-sounding "guten Rutsch."
Nowadays, the phrase is commonly understood as sliding into the new year, which makes sense considering the often icy German streets on New Year's Eve. People tell each other to slide over to the new year carefully and jokingly warn "rutsch nicht aus" (don't slip and fall).
Happy New Year in German pronunciation
New Year's Eve in German is "Silvester," but there is no way to say "Happy New Year's Eve" in German. You wouldn't wish a happy "Silvester," only a happy new year: Frohes neues Jahr [ˌfʁoːəs ˌnɔɪ̯əs ˈjaːɐ̯].
"Frohes" is pronounced just like you would read it, only with the specific German "r." "Neues" is pronounced "Noy-as" and "Jahr" sounds like a slightly longer version of the German word for yes, which you have probably heard a million times: Ja.
| English | German | IPA |
| --- | --- | --- |
| Happy New Year | Frohes neues Jahr | [ˌfʁoːəs ˌnɔɪ̯əs ˈjaːɐ̯] |
| Healthy New Year | Gesundes neues Jahr | [gəzʊndəs nɔʏ̯əs ja:ɐ̯] |
| Happy New Year (in Austria) | Schens Neichs Joa | [ʃəns naɪ̯çs jo:a:] |
| Happy New Year (in Switzerland) | Es guets Neus | [ɛs gʊɛts nɔʏ̯s] |
| Good luck for the new year | Viel Glück im neuen Jahr | [fi:l glʏk ɪm nɔʏ̯ən ja:ɐ̯] |
| New year's eve | Silvester | [zɪlˈvɛstɐ] |
| New year | Neujahr | [ˈnɔɪ̯ˌjaːɐ̯] |
| Happy Lunar New Year | Frohes Mondneujahr | [fʁo:əs mo:ntnɔʏ̯ja:ɐ̯] |
| Cheers to the New Year | Prost Neujahr | [pʁo:st nɔʏ̯ja:ɐ̯] |
| To the new year | Auf's neue Jahr | [aʊ̯fs nɔʏ̯ə ja:ɐ̯] |
| Happy new year, my friend | Frohes neues Jahr, mein Freund | [fʁo:əs nɔʏ̯əs ja:ɐ̯ maɪ̯n fʁɔʏ̯nt] |
| Happy new year, my love | Frohes neues Jahr, Liebling | [fʁo:əs nɔʏ̯əs ja:ɐ̯ li:plɪŋ] |
| Merry Christmas and Happy New Year | Frohe Weihnachten und ein gutes neues Jahr | [fʁo:ə vaɪ̯naxtən ʊnt aɪ̯n gu:təs nɔʏ̯əs ja:ɐ̯] |
| HNY | Frohes neues | [fʁo:əs nɔʏ̯əs] |
| "Good slide" | Guten Rutsch | [gu:tən ʁʊtʃ] |
| "Slide carefully" | Rutsch vorsichtig | [ʁʊtʃ fo:ɐ̯zɪçtɪç] |
| "Don't slip and fall" | Rutsch nicht aus | [ʁʊtʃ nɪçt aʊ̯s] |
| All the best in the new year | Alles Gute für's neue Jahr | [aləs gu:tə fy:ɐ̯s nɔʏ̯ə ja:ɐ̯] |
| May all your wishes come true | Mögen alle deine Wünsche in Erfüllung gehen | [mø:gən alə daɪ̯nə vʏnʃə ɪn ɛɐ̯fʏlʊŋ ge:ən] |
New Year's traditions in German speaking countries
There are NYE traditions that most countries have in common - from writing down new year's resolutions to the fireworks - but there are many that are quite unique to German-speaking countries. Most of the German traditions are also common in Austria, Switzerland, and other countries.
Especially in the bigger cities, it seems like we all tend to celebrate similarly. We eat, drink and light some firecrackers. It's usually in the smaller towns that you'll find some special, old traditions still alive.
New Year traditions in Germany
No fish - except carp
In German, New Year's Eve is named after Pope Sylvester I, who died on December 31 in the year 335. Legend has it that non-believers used to suffocate on fishbones in his presence. That's why superstitious people avoid eating fish that day.
A contradicting tradition is to eat carp on New Year's Eve. Carrying a carp's fishscale in your wallet that day is supposed to bring extra wealth in the new year.
Bleigießen
During the so-called "Bleigießen" (pouring lead), small pieces of lead are heated over a flame. Once liquid, you pour them into a bowl of water. Then you determine what shape it took and that shape predicts your future in the new year.
Different fruits can mean things like a quiet love (pineapple) or fun (banana). A bird means good luck is flying your way. You'll need some imagination to see any of these shapes in the little clumps of lead though.
Eat a Berliner
Not the people of course. "Berliner" are donuts filled with jam that Germans love to eat on New Year's Eve. In Berlin itself, they're called "Pfannkuchen" and in the South they're called "Krapfen".
Fiery drinks
Try a glass of "Feuerzangenbowle"! This drink has red wine, cherry liquor, and wintry spices like ginger and cinnamon. It's pronounced "Foy-er-tsung-an-bowl-eh," ok?
Like all the best German winter drinks, it's served warm - burning hot, actually. Traditionally, a rum-soaked sugar cube is set on fire to melt and drip into the wine. Mixing red wine, rum, and fire… What could possibly go wrong?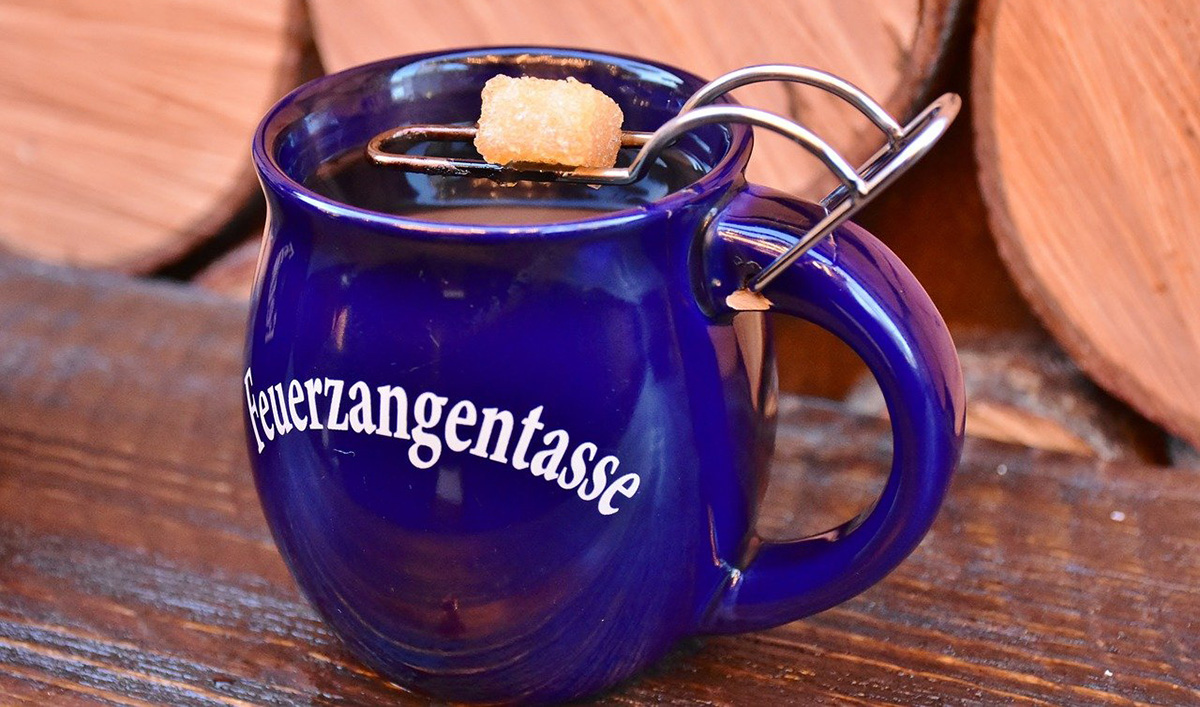 New Year's traditions in other German speaking countries
Waltz in Austria
In Austria, people traditionally waltz on New Year's Eve. At midnight sharp, while the fireworks go off, Austrians play the "Donauwalzer" (Danube Waltz) and dance into the new year. Quite festive!
Pig race in Switzerland
In the little town of Klosters in Switzerland, every new year's day, ten little piggies race against each other. Pigs are so popular on new year's because they symbolize good fortune. For the same reason, people also like to give little marzipan pigs as gifts.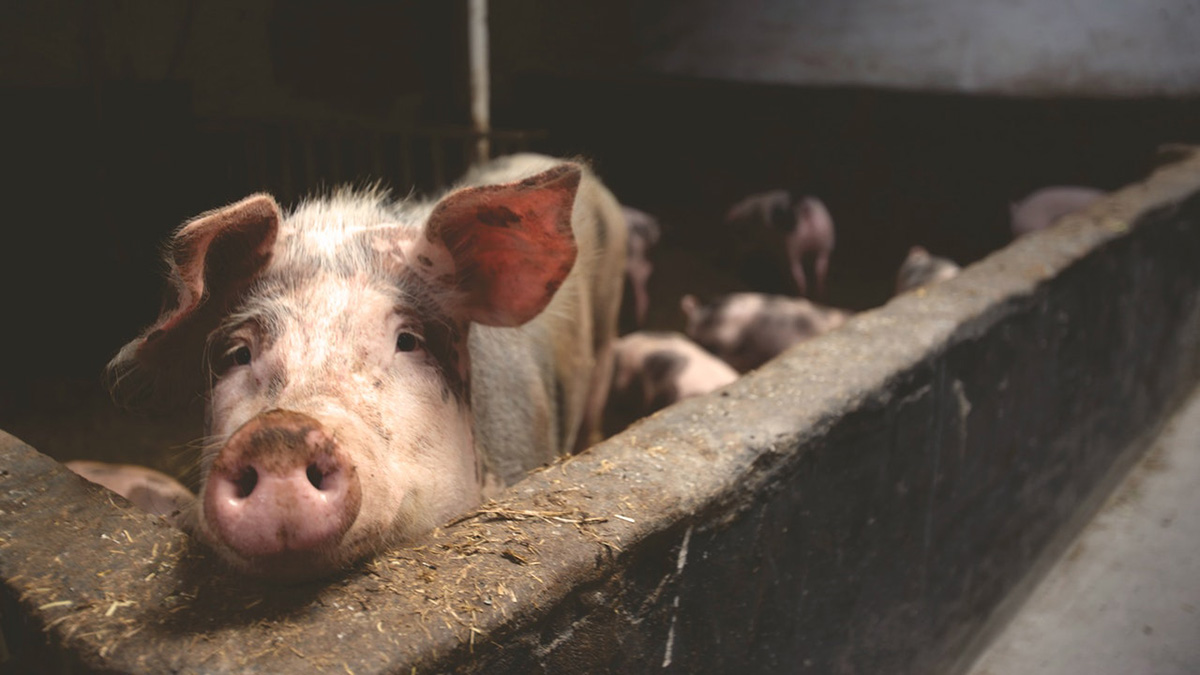 Silvesterchlausen in Switzerland
Especially in the region of Appenzell, men dress up on New Year's Day and march through the streets as so-called "Chläuse." Wearing masks, colorful clothes, and cowbells, they make noise and go from house to house to personally wish everyone a happy new year.
Bettnäschter in Liechtenstein
In Liechtenstein, sleeping in on New Year's Day might end in a rude awakening. Whoever wakes up last is pronounced the so-called "Bettnäschter" and will be woken up by the others clapping the lids of some pots together.
Download our free German essentials eBook

New Year's resolutions in German
New Year's resolutions in German are "gute Vorsätze" (good resolutions). Some of the best ones include living healthy, learning new things, and doing good but find whichever ones will make you happy!
| English | German | IPA |
| --- | --- | --- |
| Take a social media break | Eine Auszeit von sozialen Medien nehmen | [aɪ̯nə aʊ̯st͡saɪ̯t fɔn zo:t͡sja:lən me:di:ən ne:mən] |
| Be more mindful | Achtsamer sein | [axtza:mɐ zaɪ̯n] |
| Quit an unhealthy habit | Mir eine schlechte Gewohnheit abgewöhnen | [mi:ɐ̯ aɪ̯nə ʃlɛçtə gəvo:nhaɪ̯t apgəvø:nən] |
| Drink less wine/beer/coffee | Weniger Wein/Bier/Kaffee trinken | [ve:nɪgɐ vaɪ̯n / bi:ɐ̯ / kafe: tʁɪŋkən] |
| Exercise more | Mehr Sport machen | [me:ɐ ʃpɔɐ̯t maxən] |
| Take dancing lessons | Tanzunterricht nehmen | [tant͡su:ntɐʁɪçt ne:mən] |
| Learn a new language | Eine neue Sprache lernen | [aɪ̯nə nɔʏ̯ə ʃpʁa:xə lɛɐ̯nən] |
| Pick up a new hobby | Ein neues Hobby anfangen | [aɪ̯n nɔʏ̯əs hɔbi: anfaŋən] |
| Try a new skill | Eine neue Fähigkeiten ausprobieren | [aɪ̯nə nɔʏ̯ə fɛ:ɪçkaɪ̯tən aʊ̯spʁo:bi:ʁən] |
| Live life to the fullest | Das Leben in vollen Zügen genießen | [das le:bən ɪn fɔlən t͡sy:gən gənjsən] |
| Spend more time with family and friends | Mehr Zeit mit Familie und Freunden verbringen | [me:ɐ t͡saɪ̯t mɪt fami:ljə ʊnt fʁɔʏ̯ndən fɛɐ̯bʁɪŋən] |
| Go outside and enjoy the fresh air more often | Öfter nach draußen gehen und die frische Luft genießen | [œftɐ na:x dʁaʊ̯szən ge:ən ʊnt di: fʁɪʃə lʊft gənjsən] |
| Go on a short walk every day | Jeden Tag einen kurzen Spaziergang machen | [je:dən ta:k aɪ̯nən kʊɐ̯t͡sən ʃpat͡si:ɐ̯gaŋ maxən] |
| Read more books | Mehr Bücher lesen | [me:ɐ by:çɐ le:zən] |
| Watch less tv | Weniger fernsehen | [ve:nɪgɐ fɛɐ̯nze:ən] |
| Eat healthier | Gesünder essen | [gəzʏndɐ ɛsən] |
| Cook more | Mehr kochen | [me:ɐ kɔxən] |
| Be a better listener | Besser zuhören | [bɛsɐ t͡su:hø:ʁən] |
| Talk more kindly about myself | Netter über mich selbst reden | [nɛtɐ y:bɐ mɪç zɛlpst ʁɛ:dən] |
| Smile and laugh more | Mehr lächeln und lachen | [me:ɐ lɛçəln ʊnt laxən] |
| Clear out the wardrobe | Den Kleiderschrank ausräumen | [de:n klaɪ̯dɐʃʁaŋk aʊ̯sʁɔʏ̯mən] |
| Get rid of everything that doesn't spark joy | Alles wegschmeißen, was keine Freude mehr macht | [aləs ve:kʃmaɪ̯szən vas kaɪ̯nə fʁɔʏ̯də me:ɐ maxt] |
| Do more things that make me happy | Mehr Dinge tun, die mich glücklich machen | [me:ɐ dɪŋə tu:n di: mɪç glʏklɪç maxən] |
| Write down three things I'm grateful for every day | Jeden Tag drei Dinge aufschreiben, für die ich dankbar bin | [je:dən ta:k dʁaɪ̯ dɪŋə aʊ̯fʃʁaɪ̯bən fy:ɐ̯ di: ɪç daŋkba:ɐ̯ bɪn] |
| Be thankful | Dankbar sein | [daŋkba:ɐ̯ zaɪ̯n] |
| Be present | Im Moment sein | [ɪm mo:mɛnt zaɪ̯n] |
Happy new year song in German
Fantasy - Was machst du an Silvester (Offizielles Video)
There aren't too many New Year's Songs in German but we did find this gem: Two guys, a snowy mountain landscape, questionable outfit choices and cheesy lyrics about falling in love over the holidays. Sounds like Wham? Close.
This is Fantasy - a German "Schlager" music duo with their song "Was machst du an Silvester?" (What are you doing for New Year's Eve?). We already know what you'll be doing for New Year's. Jamming to this catchy song.
4 of the best German cities to visit for New Year's Eve
It's no secret that Germans know how to party - but German-speaking countries also have a few hidden spots for a peaceful New Year's Eve getaway.
1. Berlin, Germany
Of course, the big party is at the Brandenburger Tor in the German capital. This one's for you if you want to celebrate the new year with loud music, impressive fireworks and a million other people.
2. Laupen, Switzerland
In the smalltown of Laupen, you'll possibly see the most fascinating New Year's parade in all of Switzerland. In order to drive away the ghosts of the old year, people come together and dress up as a number of interesting characters, most of them wearing wood masks and fur clothes. You'll have to see it.
3. Warnemünde, Germany
This beautiful coastal town by the Baltic Sea has a special New Year's tradition - a spectacular little fireworks show in front of the Warnemünde Lighthouse. The event is called "Turmleuchten" (Tower light) and includes live music and a lightshow.
4. Salzburg, Austria
The romantic city of Salzburg starts celebrating, when the fortress riflemen fire their shots at the famous fortress of Hohensalzburg. People start gathering and just before midnight you'll see them waltzing in front of the cathedral. In case you were wondering, "fortress riflemen" in German is "Festungsprangerstutzenschützen". You might want to write that down.
What's your New Year's Resolution?
To take a German class? Or finally go on that Europe trip and travel to one of the beautiful German-speaking countries?
The holidays are the best time of the year for wishes to come true, so start planning your trip.
Remember all the new words you learned and pick and choose which traditions to follow once you're there.
Just be careful when eating fish, don't slip and fall and maybe stay away from that "Feuerzangenbowle". The fact that you now know how to pronounce it is hot enough.
Feeling delighted with our festive, fun, free German vocab articles? You know where to keep up the joy.
Expand your knowledge of German