Choose how you want to learn Serbian online
We offer private and group online options for learning Serbian.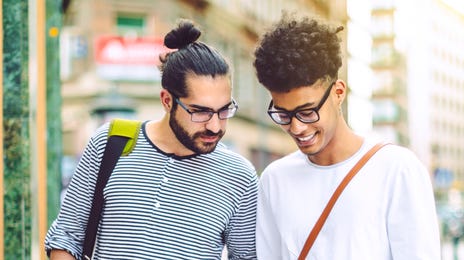 Why Learn Serbian Online at Berlitz
Complex, logical and poetic, the Serbian language is spoken by around 12 million people worldwide. Studying Serbian online with Berlitz means getting the support you need to learn, develop and confidently navigate the language. With our flexible timetable, studying online also means you can set the pace of your study to suit your individual circumstances.
Benefits of learning Serbian online at Berlitz
A century of success
Berlitz has been helping people successfully learn languages for 140 years, so you have the support and experience you need to reach your goals.
Online classes to study from wherever you are
Enjoy study from the comfort of your own home, your local coffee shop, or wherever you find yourself, with the flexibility of Berlitz online learning - the best way to learn Serbian online.
Study at your own pace with total flexibility
With flexible timetables, you can customize your learning pace to suit your lifestyle and study preferences.
Intensive courses available
If you want an intensive language learning experience, Berlitz has several intensive options that will help you to reach fluency fast.
Certified and experienced teachers
With qualified native level instructors, your learning journey is in safe hands. Your instructors are there to help guide your journey, provide feedback on your development, and help you reach your goals successfully.
How learning online works with Berlitz
Frequently asked questions (FAQs)
In general, Serbian is classified as a more challenging language for English speakers to learn than other languages. However, there are many variables to consider. For instance, Serbian can be written in both Latin and Cyrillic scripts, so it will depend on how deep you want to go in your language immersion. Like all languages, patience, perseverance and a general keenness to learn will be essential factors in helping you achieve your Serbian language learning goals.
It might be difficult to initially comprehend the difference between these languages as an English speaker. But ask a local about the difference in these languages, and you'll be sure to get a firm answer that these languages are distinct and separate. Serbian and Croatian languages differ mainly in vocabulary and syntax, but the grammar and sound system is similar.
Yes, much of the content in our online courses are downloadable, so you can access it even when you're not connected to the Internet.
Schedule a free demo
Fill in the form below and an enrollment advisor will contact you to set up a free demo and discuss our language options with you.