Choose how you want to learn English
We offer both private and group options for learning English.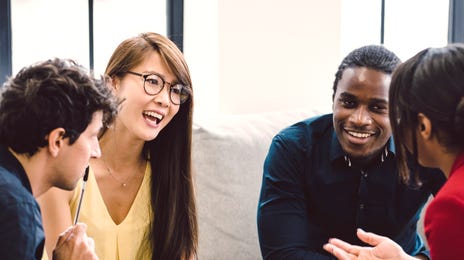 Start speaking English in your first class.
Working with our Berlitz instructors, you will be immersed in the English language from the first class. During your classes, you will only speak the language.
Our in-person classes give you the opportunity to not only communicate, but get a better sense of how the language is used. From non-verbal cues to posture to facial expressions, there are a lot of nuances to successful communication. Our classes inside our Language Centers give you the best opportunity to learn all of these. 
Frequently asked questions (FAQs)
You can get started learning English at any of our Language Centers. For a full list of our Language Centers, click here. 
Our immersive techniques have been proven to be the fastest way to learn English. You will only speak English during your classes, which increases the rate of retention to help you start speaking fast.
You can select from both group and private courses.
Yes. You will be given a placement test to determine your current knowledge to place you in the correct level.
How learning works with Berlitz
Find out more
Fill in the form below and we'll contact you to discuss your learning options and answer any questions you may have.