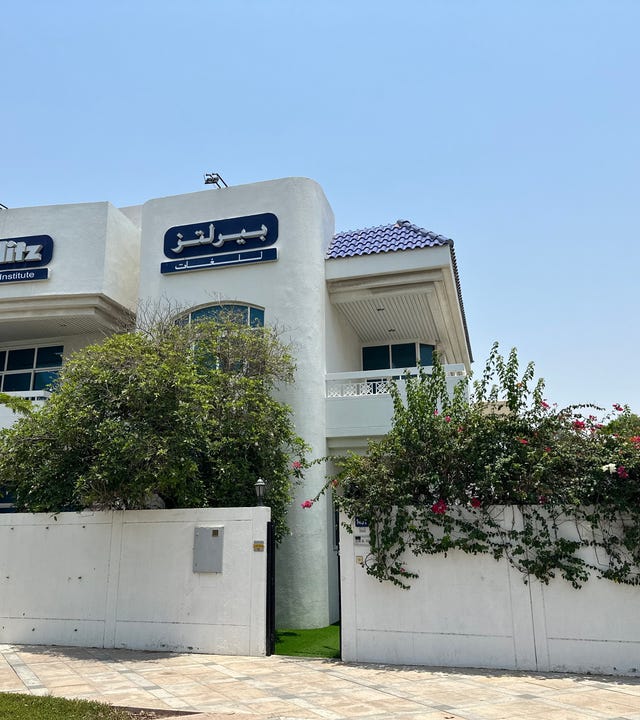 Language School in Dubai - Jumeirah
Address:
Villa #145 - 55 Jumeirah Beach Rd - Jumeirah - Jumeirah 1 ,
Dubai
Classroom Hours:
Monday - Friday

8:15 - 21:00

Sundays

09:00-15:00
Location of our language center in Dubai - Jumeirah
Our language center in Dubai - Jumeriah is located on Jumeirah 1, Jumeirah beach road with a convenient location on the main road. Mercato Center and Old Dubai Zoo are nearby.
How to get to Berlitz Dubai - Jumeirah
You can get to Berlitz Dubai - Jumeriah by several public means of transport such as bus, taxi, and car.
About the Dubai - Jumeirah language center
A two-story villa with a garden on the main road in Jumeirah 1, a lively and convenient location. Throughout the year, we offer specific language training in small groups - intensive, extensive, business development and management, as well as for children and adolescents. Our language school has 18 classrooms, a villa, and is wheelchair accessible. Contact us for more information.
Discover all the languages courses at Berlitz Dubai
Find out more
Fill in the form below and we'll contact you to discuss your learning options and answer any questions you may have.