This year, you don't want to offer your kid just any vacation activity, but something very special. Then one of our holiday camps in Saxony or the surrounding area is the right choice. After intensive English units in the morning, fun and action are on the agenda at all of our camps in the afternoon.
While adventurous kids will get their money's worth at Grillensee near Leipzig, our horseback riding camp in Seelitz is perfect for all horse lovers. And teenagers will also find something suitable in our program. Our sports camp in Naumburg leaves nothing to be desired for teens who love sports.
Great holiday experiences included: Our Holiday Camps Saxony
Why the region of Saxony is particularly suitable for our language camps
The holiday region of Saxony offers the perfect mix of nature and leisure activities for our Berlitz language camps. All of our camp locations have numerous highlights that ensure a great holiday feeling.
Lake and forest adventure
In addition to direct access to the lake, the language camp Saxony at Leipzig Grillensee there is an adjacent forest which invites adventure. On the spacious grounds, there is also a beach volleyball court, a large soccer field, and the opportunity to let off steam with stand-up paddling. This cool program of our holiday camp Saxony is also offered as a Day Camp without overnight stay for kids from the region.
Holiday fun with four legged friends
For all riding and animal fans, our holiday camp Saxony at the Waldhotel am Reiterhof in Seelitz is the right choice. On the farm, kids can take care of ponies as well as other farm animals such as llamas or goats. The area in Seelitz invites extended rides at Briesener See, through the stunning Muldental at Erlbach river. The river also offers exciting excursions, for example our popular inflatable boat tour. In addition to a large indoor riding hall, the spacious grounds also offer a great adventure playground to explore.
Sporty holidays
The name of our cool location is our holiday camp Saxony-Anhalt in Naumburg. The sports hall and the sports fields on the large grounds of Euroville youth and sports hotel offer everything a sportsman's heart desires. Soccer, badminton, slacklining, basketball, beach volleyball, and much more. There will be a barbecue and campfire evening as well as trips bowling. The open-air swimming pool in the cathedral city of Naumburg at Saale also ensures an unforgettable holiday experience for our young participants.
What makes our Berlitz holiday camps Saxony special?
The extensive feedback shows our Berlitz language camps in Saxony or Saxony-Anhalt are characterized by the unique combination of meaningful English holiday courses and a wide range of leisure activities with lots of adventure, fund, and sports.
Let's speak English
Our motivated, young team of counselors from various English-speaking countries not only teach the kids the joy of English as a foreign language, but also opens the kids' cultural horizons. Through the natural integration of English into everyday life at our holiday camp Saxony, the kids learn to communicate in the foreign language. They, therefore, gain a huge advantage for the next school year.
Boredom - no, thanks!
Thanks to the relaxed camp atmosphere and the numerous outdoor and indoor activities at our different locations, homesickness and boredom don't stand a chance. Give your kid the opportunity to get to know the diversity of the holiday region Saxony and book one of our varied camp offers. Bring on the summer!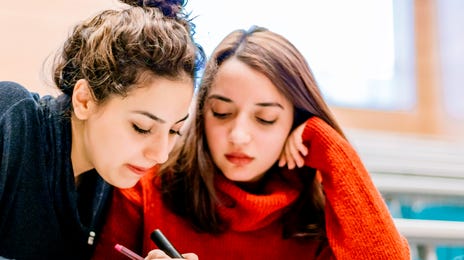 Berlitz language camps in Saxony: These advantages speak for themselves
Interactive English training in the morning with pedagogically trained counselors
Kids are divided in level-appropriate small groups based on a placement test
Varied leisure program in the afternoon with lots of sports and fun
Horseback riding, swimming, archery, creative projects, excursions, and numerous sports activities
Common leisure activities with our English-speaking counselors promote active speaking in the foreign language
Daycare in Day Camp or student language trip with overnight stay in shared rooms
Holiday camp Saxony-Anhalt at the Euroville youth and sports hotel especially for sports-mad teenagers aged 10 to 17
Frequently asked questions about our Holiday Camps in Saxony
Yes. Our years of experience with language camps in Saxony and the surrounding area have shown that the kids benefit, above all, from the fact that English is spoken throughout the day at the camp. In this way, they practice speaking actively in an informal atmosphere, and also gain self-confidence. We place great emphasis on integrating the foreign language naturally into everyday camp life.
You can contact your kid at any time through the camp director. Before the start of the holiday camp in Saxony, all parents will receive the name and phone number of the camp director in charge. To contact them, it is best to send a text message with a request to call back. Our camp director will then get back to you as soon as possible.
At all our holiday camps in Saxony or Saxony-Anhalt, numerous exciting outdoor activities are on the program. In the case of bad weather, we have lots of alternatives depending on the location, that can be implemented at short notice. Bowling, an excursion to the adventure pool, the use of an indoor climbing wall, a wellness evening, and much more. Even in rainy weather, our Berlitz language camps are guaranteed not to be boring.
Do you have any questions about our Language Camps?
Contact us today with your questions and send us a message. There is no obligation on your part. Your Berlitz team will contact you shortly.