Learn a foreign language and expand your horizons
Whether you want to boost your career prospects, prepare for a language test, or you just feel like learning something new – with Berlitz, you can learn any foreign language that interests you.
Drawing on our proven training methods, our native-speaker trainers will ensure you make rapid progress. With us, you quickly gain confidence and feel much less inhibited about talking – right from the very first lesson. Lessons are structured to make it easier for you to learn the language of your choice from scratch, just like a native speaker would. Also, the topics you look at are chosen to match your personal aims and requirements. This is important so that you reach your personal language goals as quickly as possible.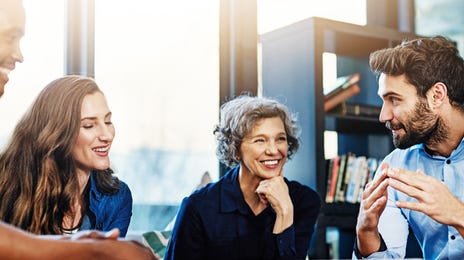 Why it's really worth learning a new language:
Learning foreign languages is good for cognitive development
Foreign languages can boost your career prospects
Different languages and cultures broaden your horizons
Speaking more than one language makes things easier when you live and work abroad
People who speak foreign languages are often more self-confident
The languages you can learn with Berlitz
We offer you the chance to learn a selection of the most commonly spoken foreign languages, spanning all Berlitz training formats. With many of our individual formats (such as private language classes) we even offer all actively spoken languages.
The benefits of learning a language with Berlitz
Total flexibility: Simply pick the course that best suits your individual needs.
Berlitz Method: The Berlitz Method motivates you to start speaking the foreign language from the very first lesson.
Rapid success: Quickly gain confidence and make use of what you have learned with our practical course content.
For all language levels: We offer courses suited to all levels, categorized according to the Berlitz proficiency levels.
Asking for personal advice
With so many options available, it's entirely understandable that people have questions. We will answer all your questions and help you decide which language course is best suited to your requirements. You can contact us by email, on the phone, or by visiting a Berlitz Center of your choice.
Language classes for kids and teens
Our language programs are based on tried-and-tested teaching methods to ensure children and teenagers become actively involved in lessons. Our team of specially trained native speakers guide young learners through a whole host of language courses.
Language classes for adults
Speaking a foreign language is now a key qualification in the world of work. From face-to-face instruction to virtual training and hybrid courses – Berlitz can offer you the right training to keep you in top form.
Subsidized language courses
Some of our Berlitz language courses are officially approved for government funding. It costs nothing to ask: We're always happy to help you find the right course and look into personal funding options.
Language tests and preparation courses
Interested in receiving an official assessment of your language proficiency? Or need to prepare carefully for an exam? We can prepare you for a variety of internationally recognized language certificates.
Blog: Handy hints on learning languages
Read the fascinating posts in our Berlitz Blog. The topics revolve around these aspects: languages, cultures, and education. Not only are the articles entertaining, you can also pick up some useful learning tips that will help you reach your goals. Take a look!
Still undecided?
Why not sign up for a free, no-obligation trial lesson and simply give us a go? You can also complete a free online placement test.
FAQs
All of our lessons are based on language instruction according to the Berlitz Method. This allows you to learn all the key skills you will need when using a language: listening, reading, writing, and speaking. Actively reading and writing is an integral part of our training. As a result, many of our courses feel more like workshops.
Despite this, we also place emphasis on actively talking. All communication takes place in the target language – not only with your trainer, but also with the other participants on the course. We also use role plays and simulations to link course content to everyday situations.
The training process is broken down into different stages. If you have no prior knowledge of a language, you will start with carefully monitored periods of practice, meaning that you will be corrected more frequently by your instructor. This will help you work on your pronunciation and the accuracy of your speech. The next stages are about putting what you have learned to use and joining in open conversations in order to practice. During this phase, your trainer will not correct you much. The exercises involving open conversation are an important part of improving fluency and feeling less inhibited about talking. It's important to remember that making mistakes is part of the process and completely normal.
You will not have to memorize all grammar rules if you want to speak a language, but the ones you do know should be used correctly in conversation. This is why at Berlitz, you are always shown how to use grammar in the right context, in keeping with language usage and the topic – so you internalize what you learn by using it methodically.
There are big differences in the prices of courses depending on the training format, the scope of the course, duration, and special discounts. For example, our online courses come in a variety of formats, which each cost a different amount. It is therefore best to get in touch and ask for more detailed information. Tell us about your individual expectations and ideas.
Together, we can discuss which training courses would work best for you and which ones match your budget. You can also receive government funding on some of our courses and save as much as 100% of the costs. To give you a general idea of what courses cost, allow us to show you a few examples:
One thing we can say is that all of our services offer you excellent value for money.
*Subject to change. Prices may vary depending on the duration or scope of courses, the selected format, and temporary discounts.
There are a number of good reasons to learn two or more languages. For example, learning multiple languages on a continual basis keeps the brain in active "learning mode." Not only does this make you more receptive to new concepts, you also make progress more efficiently.
One thing it's important to remember if you want to learn more than one language at a time is that you'll need to remain motivated and have a clear goal in mind. Both of these factors will help you develop a learning routine.
Any questions on the language courses offered by Berlitz?
Thinking about learning a new language, but still have questions for us about our services? We'll be pleased to help you. Simply contact us – with no obligation on your part. An expert at Berlitz will get back to you as soon as possible.