Continuing education as you continue in your career. With important language and business skills.
The world we work in continues to change all around us. So if you're currently in work, it's important to remember that success tomorrow means keeping an eye on the horizon today. Whether it's about brushing up on your expertise to help with your current job or acquiring qualifications for a new position, it's never a bad idea to undergo further training in parallel to your work. We invite you to build on your skills with our certified program of language and business courses, which are all based closely on actual practice.
The format of the courses we offer allows for plenty of flexibility, making it easy to dovetail training with everyday work. Thanks to a program of government subsidies, not only are you offered the flexibility you need to undergo further training, in the best-case scenario you can also have up to 100% of your costs reimbursed. Allow us to help you: As you'll see, we offer exactly the right training for the career of your choice.
Our subsidized courses at a glance
Already employed, but interested in learning more about your profession? The following government subsidy options can support you with financial arrangements. Prepare yourself for the challenges of the future!
Your personal consultation
We will support you in your search for the right course and check your funding options. You can book a free consultation appointment or send us your questions. Consultation appointments can take place over the phone or online.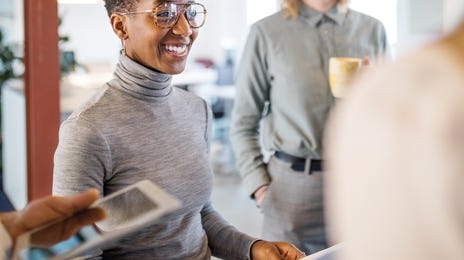 Benefits at a glance
Special language courses with content tailored specifically to different professions
Courses on modern business skills with an emphasis on digital processes
On site at a Berlitz Center or online with a live instructor
Subsidies available for up to 100% of course fees
Free advice on selecting the right course and funding opportunities
FAQs on training for people in work
We offer a variety of training options to help you get ahead quickly in your profession. These include language courses with content tailored to specific jobs, such as business English or German, as well as training in certain business skills, such as working with digital systems, for example Work 4.0 or Digital Skills in IT. The best way to work out which training program is best for you and your work situation is to arrange a non-binding consultation. Simply fill out our contact form.
The different states of Germany offer individual subsidy programs, which you can use to fund training. For example, many states offer educational leave, which allows employees to take paid vacation for one week. The Federal Office for Migration and Refugees (BAMF) offers subsidies on German for Professional Purposes. Under the Qualification Opportunities Act, companies are also entitled to offer staff training supported by government subsidies.
As a certified educational establishment, we make it easy for you to make full use of the range of state-subsidized continuing education programs. Allow us to advise you – at no cost to you!
Yes, that is possible. The Qualification Opportunities Act allows your company to receive state support with staff training programs – and that includes language courses in groups. Feel free to contact us if you require further information on this option.
Our training options can be adapted to meet your individual needs. One option is to attend a training course on site at one of our 50 or Berlitz Centers. Another is our digital option in the form of live online courses. You are also free to decide if you would prefer to study part-time or full-time. Whichever format works best for you, training is always based on the successful Berlitz Method, offering the same high quality and objectives to ensure you learn quickly and effectively.
Berlitz has been a state-approved educational institution for subsidized staff training programs for over 20 years. We provide you with professional support throughout the entire process – from the initial inquiry through the process of applying for subsidies, to the moment training starts. Also, all of our trainers have a wealth of practical experience in business, having worked in a variety of sectors of industry. Not only do they have a solid understanding of intercultural issues, but they also receive regular teacher training. Tap into this treasure trove of expertise and make a success of your language course.
Your questions about subsidized courses
Contact us today with your questions. We will work together to find the course that suits you best. Your Berlitz team will get back to you shortly.