IT skills for young and old
At Berlitz, you're just as likely to see kids and teens immersed in the fascinating world of digitech as you are to see adults. Learn the key future skills in ways that best match your particular age group.
Whether it's Alexa, Apple, or apps, learning how to use digital technology is part and parcel of modern life – especially for the younger generation. And older ones are also increasingly expected to know how to use IT solutions and acquire digital competences. In addition, the IT industry is always looking out for skilled workers. To make things easier for everyone, Berlitz offers courses that are specially adapted to different age groups and topics. All courses place emphasis on lively interaction and practical skills.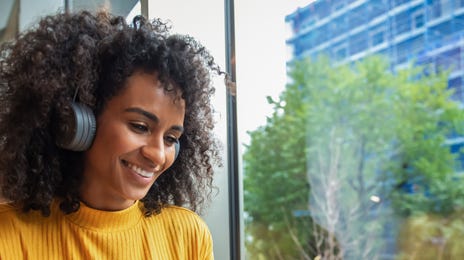 The benefits offered by Berlitz
Proactive, lively, and practical approach to acquiring knowledge
Courses based on plenty of interaction and exercises
Designed and run by experts
Many modules can be booked individually and online
Berlitz certificate or internationally recognized certificates
Asking for personal advice
Digital competence, IT skills, coding – we offer a wide selection of courses revolving around IT education. Need help deciding which course to do? Like to ask us a question? We'll be pleased to help you.
Courses for adults
Need written evidence of your IT skills? Provide tangible proof of your digital competence with internationally recognized ICDL certificates. We can also offer opportunities to IT specialists – as well as newcomers and people switching careers – to continue their education with a series of online seminars.
Courses for kids and teens
Whether it's programming or digital education, our courses are a great way to learn problem-solving skills, logical thinking, teamwork, and much more. By the end of the course, not only do you acquire skills that you really enjoy using, you're also more self-confident and have what it takes for the future.
Blog: Acquiring digital competence by reading
Whether it's programming for kids, learning in social networks, or the benefits of gamification – our blog offers a variety of useful tips from the world of digital education. Take a look today and hone your knowledge, just by reading.
Why digital competence is so important these days
Digitech and the internet became a key ingredient of our everyday lives many years ago. Which is why it's all the more important that we understand how to use IT safely. Also, there is already high demand in the job market for digital competences and IT skills. As a result, investing in your knowledge of digital technology is good for your career prospects. The benefits to you in concrete terms:
Understand how to use media responsibly
Prepare for the world of work – now and in the future
Opportunities for newcomers and career-changers
FAQs
There's a simple answer to that one: because digitech is now all around us. Which is why it's all the more important that children learn how to use media and information correctly and safely. Also, digital skills will play a crucial role in the future world of work. The programming classes and vacation courses offered at our Berlitz Digital School allow parents to start laying a foundation for the future of their children today.
The idea of our courses is to impart knowledge of programming and digital skills in an exciting way, based on a modern concept that involves stimulating exercises and lots of scope for creativity – all according to the world-class standards you've come to expect of Berlitz. The Berlitz DNA, which has set us apart for over 140 years, can be seen in every course, based on active and dynamic, hands-on instruction. Our offer includes:
Training courses for the ICDL certificate, which is like a driving license for computers, are primarily aimed at professionals who want to provide written evidence of their digital competences. That said, people starting or returning to work also benefit from the topics covered on courses (and certification) – as do jobseekers. This is because ICDL certificates are recognized by many providers of educational services.
Important to know: Some companies support their employees with ICDL certification.
Our IT courses for professionals offer specialists and career-changers four themed modules on topics of practical importance:
International Certification for Digital Literacy
Web Development
IT Service Management
English for IT
Aside from building your specialist knowledge and digital competence, we also focus on bolstering your soft skills. The interactive nature of the live online seminars allows you to build and deepen knowledge in the areas that matter most and practice what you have learned in exercises.
Important to know: All modules are self-contained and can also be booked individually. Completing the entire series of IT seminars allows you to acquire the most important hard and soft skills, and build on key qualifications.
Our IT courses are eligible for education vouchers from the state, with subsidies of up to 100% possible. Education vouchers are available to the unemployed and jobseekers, but also people currently in employment. The idea is to ensure training costs are covered. We are happy to advise you on whether you're entitled to receive a state subsidy. We can also help you complete all formalities required by the authorities.
Any questions on the training offered by Berlitz?
Whether you want to switch to the IT industry, need a certificate, or are simply looking for a workshop for a child, we will be happy to answer any questions you may have. Contact us for further details. An expert at Berlitz will get back to you without delay.