New language skills. New career opportunities.
Get your career back on track and add an important extra to your application by acquiring new language skills. There is strong demand for foreign language skills in the employment market and in many lines of work they're a key qualification. Berlitz offers a valuable opportunity to learn languages through the AVGS training voucher (Aktivierungs- und Vermittlungsgutschein, literally "activation and placement voucher"). As a certified educational institution, we offer a variety of vocational language training options. Whether it's an individual course, a group course, in person at one of our Berlitz Centers, or online, each format can be adapted to your needs.
If you're currently looking for work and want to enhance your chances on the job market, in most cases a training voucher will entitle you to receive free training. Contact us for further details!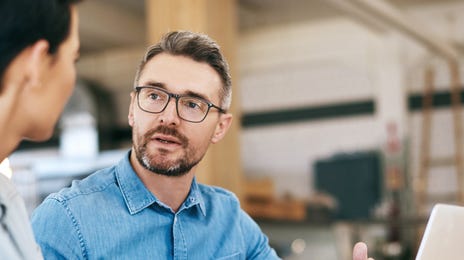 Benefits at a glance
AVGS language courses offer new job opportunities
Wide range of languages and work topics
Professional advice from Berlitz experts
Certified qualifications recognized by the business community
Up to 100% funding through the Agentur für Arbeit (JobCenter)
4 steps of successfully completing an AVGS language course
Step 1: Consultation and selecting the right course
To ensure you find the right course, we provide personal advice on subsidy entitlements and goals according to your level of language proficiency.
Step 2: Contact your employment agency
Next, an appointment is set up with your job advisor/employer services so that your subsidy voucher can be handed over in person.
Step 3: Registration and start
You register for a course through the Berlitz Center and redeem your voucher. You will receive all course timings so you can start training as soon as possible.
Step 4: Complete your course with certificate
We ensure you complete your course successfully, allowing you to gain your certified qualification quickly and effectively.
Your personal consultation
We will support you in your search for the right course and check your funding options. You can book a free consultation appointment or send us your questions. Consultation appointments can take place over the phone or online.
Language courses with an AVGS training voucher
FAQs on your vocational training using the AVGS voucher
The AVGS program ("activation and placement voucher") offers subsidies to job seekers to help them find their way back into the labor market. Improve your chances of finding a job by receiving vocational training with an AVGS training voucher. AVGS vouchers are approved by the German employment agency (Agentur für Arbeit or Jobcenter). Berlitz offers a selection of language courses that can be attended under the AVGS program.
The validity of vouchers – i.e., the date by which your course must start – is determined on an individual basis by your job advisor. Please note that the course you select must not last longer than eight weeks. Also, under certain circumstances your advisor may impose time restrictions.
You will receive an AVGS voucher if you fulfill certain requirements laid down by the federal employment agency (Bundesagentur für Arbeit). We can organize an initial consultation to assess your subsidy options and explain the required next steps for booking a course. Contact us today and let's discuss the options.
Language courses are subject to a state subsidy of up to 100%. We are happy to discuss with you whether you're entitled to receive a state subsidy and will help you complete all formalities required by the authorities.
Our experienced language instructors have a wealth of practical experience. All come from a business background, including fields like HR and organizational development, project management, business coaching, account management, and communications. Berlitz instructors receive regular training as part of our certified quality management program in keeping with DIN standard ISO 9001.
You won't need to wait long for your subsidized course with an AVGS training voucher. We start new group language courses every month. Require individual instruction? We're entirely flexible and can start any time you like.
Redeem your AVGS voucher or send us your questions
Would you like to redeem your AVGS training voucher or learn more about the topic? We will be happy to help you. Get in touch with us today.