Looking for a French language camp for your kid? Take a look at the Berlitz camp offer: Intensive French language training in the mornings and fun activities during the afternoons and evenings – all whilst speaking French only!

This is the perfect holiday program for all kids and teens who want to improve their French and get to know the French culture.
Why Berlitz Language Camps in France are a good choice
Learn French in France
The best way to learn a new language is to do so in the country itself. France has a lot to offer for language holidays in the country: a long history, the very diverse French culture, or the delicacies of French cuisine that you can discover in the different areas of the country.
All these experiences offer a great opportunity to get in touch with the French language.
History and Culture in Paris, Strasbourg and other locations
During a language camp in France a visit to exciting cities like Paris with its world-renowned tourist attractions and the many museums is a must. The charming Strasbourg in Alsace has a lot to offer, especially due to its important role in German French history. As the "heart of Europe" the institutions like the European Parliament are located there and worth a visit.
French language camp: the first trip without parents
For kids and teens, language camps are often a very special experience: For some it is the first trip without their parents, and this offers the opportunity to discover a new culture and to meet new people. Fun holidays abroad and improving French language skills: This is a win-win-situation that both parents and kids will like!
Berlitz language camps in France: Our concept
Real conversation: The key to language learning
French is a language that requires a lot of active speaking and regular practice. This is the best way to internalize grammatical rules, vocabulary, and typical phrasal structures. In regular frontal school lessons, French conversation unfortunately often comes far too short. This is exactly where the Berlitz concept for our language vacations in France comes in.
In French, please
At our French language camps, French is the official camp language throughout the day - both during the language training in the morning, and during the excursions and group activities in the afternoons and evenings. Since the participants are also taught and supervised by trainers that speak the camp language, the kids will automatically gain more confidence to actively use their newly learned French skills.
Unforgettable holiday experiences at French language camp
At Berlitz, we place great emphasis on a relaxed camp atmosphere and the joy of learning languages. There is no room for pressure to perform or stress.Through the combination of language training and a variety of group activities we focus mainly on one thing: Holiday fun à la française.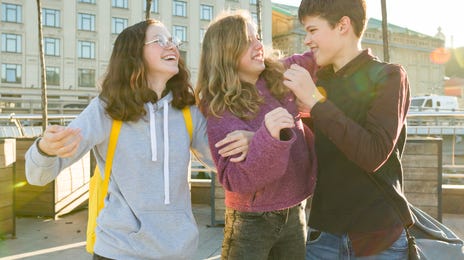 What kids can expect at a Berlitz language camp in France:
Total immersion in the French language and culture
Intensive language training in small groups with Berlitz language trainers
Experienced counselor team
French as camp language fosters active speaking skills
Fun excursions and team activities, like quiz nights or camp parties
Find out more
We would be pleased to provide you with personal advice and answer all your questions – with no obligation on your part. Your Berlitz team will contact you shortly.