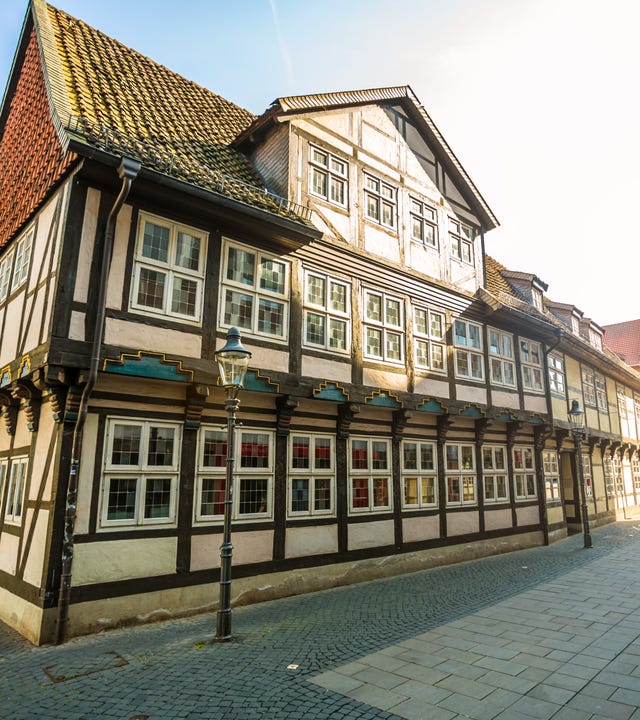 Braunschweig Language Center
Address:
Waisenhausdamm 7
38100 Braunschweig, Niedersachsen
Welcome to the Berlitz language school in Braunschweig

You'll find Berlitz Braunschweig on the 5th and 6th floors (5. OG and 6. OG) in the heart of the city. Thanks to its location on the building's top floors, during your breaks you can enjoy the view of downtown and the Schloss-Arkaden shopping center. The Schloss-Arkaden, the historic Altstadtmarkt square, and the Magniviertel neighborhood are only a few minutes' walk away. At our language school in Braunschweig, instruction is based on the Berlitz Method, which empowers learners to progress rapidly and make the most effective use of their learning time. Our international team teaches English, German, and French as well as many additional languages. Please contact us so that we can work together to find the perfect language course for you.
These are some of the languages you can learn with Berlitz Braunschweig:
Why you should choose the Berlitz Center in Braunschweig
Easy to reach: The Berlitz language school is located right in downtown Braunschweig, making it easy to reach by car and by public transportation. You can park your car in the parking garages of the Schloss-Arkaden, the Magniviertel, or Wilhelmstraße. The Schloss streetcar stop is also very close to the Berlitz Center.
Subsidized courses: Our subsidized course program in Braunschweig includes German classes (level B2 and C1) run by BAMF under DeuFöV as well as integration courses. We also offer instruction in Business English and Business German for executives and managers which can be subsidized by the AVGS and the education voucher from the Federal Employment Agency or Jobcenter.
Courses for kids: Children ages 5 years and older can take part in our weekly classes. Berlitz Braunschweig also offers vacation courses for the 10 and up crowd.
Preparation courses: At our Braunschweig language center, you can take prep courses for language certificates such as TOEIC, TOEFL, or IELTS.
Your contact at Berlitz Braunschweig
Sibylle Laas
Center Manager
Your contact for all language courses, either directly in the Berlitz Braunschweig Center or in the Online Classroom.
FAQs
What makes Berlitz Braunschweig different from other language schools?
The main difference is that instruction is based on the Berlitz Method, which places a priority on active speaking and listening, focuses on the personal needs and language-learning goals of the participants, and is conducted by native-speaker language instructors.
How often do lessons take place?
As a general rule, instruction is held once or twice a week, but we also offer intensive courses that take place several times per week. For especially rapid progress, you can join one of our Total Immersion courses, where you participate in 12 learning modules per day.
What language level is the right one for me?
If you already have some proficiency in the language but are not sure what level matches your ability, we recommend that you take one of our placement tests before starting a class so that we can identify the right language course for you.
Find out more
Contact us today with your questions. We can work together to find the course that's right for you – with no obligation on your part. Your Berlitz team will contact you shortly.